Close to 700 million people in China are expected to travel during the country's National Day holidays, known as the Golden Week, which kicked off on Sunday (Oct. 1). That's about half the country's nearly 1.4 billion population.
In the first two days of the week-long break, China's tourist spots have already received some 227 million visitors who spent around 190 billion yuan ($29 billion), according to data from China's National Tourism Administration for Sunday and Monday (links in Chinese). The CNTA has predicted more than 700 million tourist trips this year—a 10% increase compared with the same period in 2016. (An individual can be counted twice, for making two trips between two destinations.)
With China's traditional Mid-Autumn festival falling during the week, the Golden Week is seeing more trips than previous years as people gather with their families. For the whole week, China could see travel-related spending of nearly 600 billion yuan ($90 billion), according to the  CNTA (link in Chinese).
China has to take special steps to cope with the pressure put on the country's transport system, such as by increasing train services or suspending tolls. Many expressways linking big cities across the country saw long vehicle queues (link in Chinese) as a result of the no-charge policy for small cars during the week. The first wave of heavy traffic jams came late Sunday night. At around 3 a.m, dozens were still lining up for restrooms at a gas station on the expressway connecting Guangzhou to the nearby city Heyuan in China's southern Guangdong province.
Travel time by bus also tripled from three hours on average to nearly 10 hours between Guangzhou and Hong Kong—and nearly 90% of coach services between Hong Kong and mainland cities had to be canceled because of the heavy congestion on the expressway connecting Guangzhou and Shenzhen, which borders Hong Kong.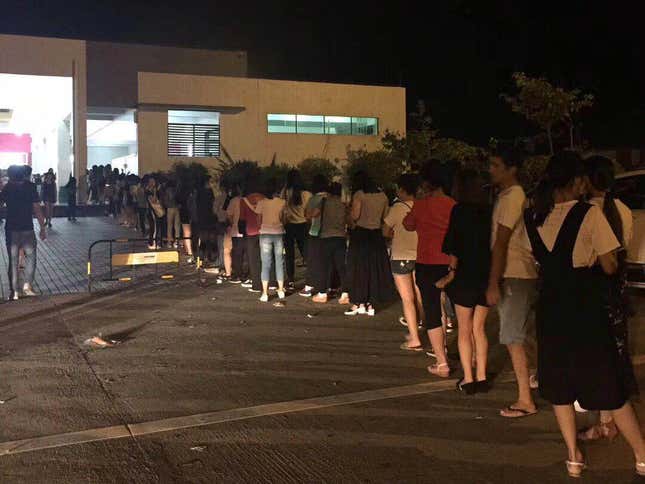 Big cities never get boring
The bulk of people are traveling domestically, leading to snaking lines at popular tourist attractions, and record earnings for heritage sites, hotels, and retailers. Traditional tourist spots like Beijing, Hangzhou, Shanghai (link in Chinese) are still among the top domestic destinations, with many visiting Tiananmen Square and the Forbidden City in Beijing. Hangzhou's West Lake scenic area received some 390,000 visitors (link in Chinese) on Sunday.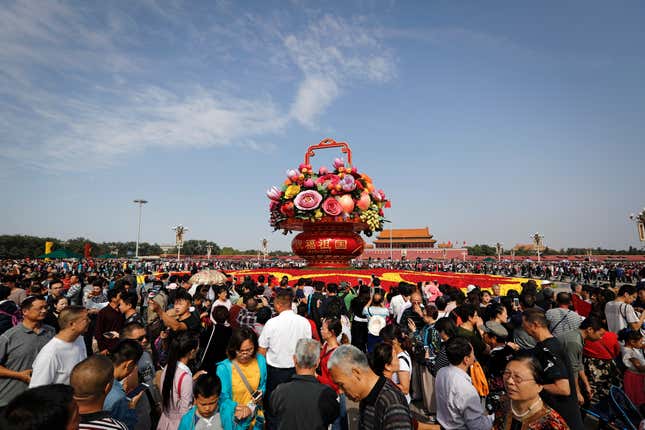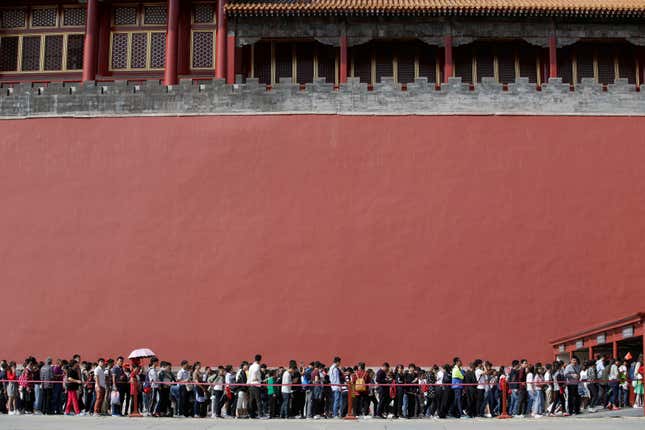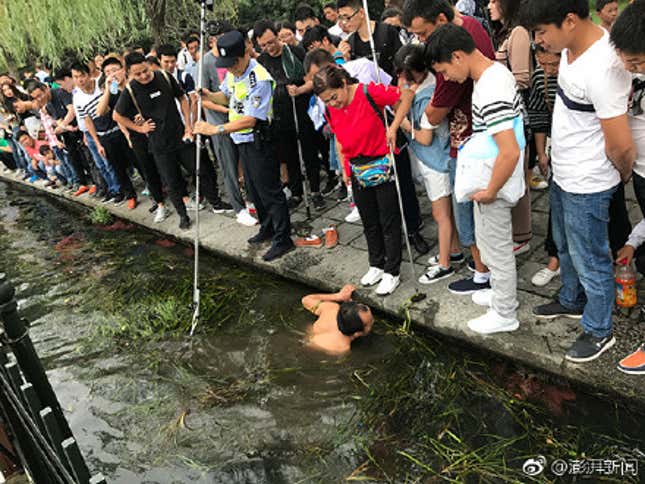 Flocking overseas
More than 6 million Chinese tourists are visiting Thailand, Japan, and the US —the top three most popular overseas travel destinations during the long break, according to an annual National Day holiday travel report by Ctrip, a Nasdaq-listed travel agency based in Shanghai.
South Korea, the most popular country to head to last year, however, has dropped out of the top 10 this year, according to a report (link in Chinese). The country has already seen a more than 20% drop in Chinese tourists for the first seven months of 2017 as a result of tensions between South Korea and China. Beijing is upset over a US-developed anti-missile system deployed by South Korea earlier this year.
To handle the surging Chinese tourists, the Chinese embassy in Singapore, one of the top 10 overseas travel destinations this year, has made a 27-page pamphlet detailing etiquette rules such as refraining from trying to bribe airport officials.
Hong Kong regains some momentum
Hong Kong, which has been experiencing political tensions with the mainland over its autonomy, seemed to see an improvement in attracting mainland tourists compared with last year, when the city's retail performance was its worst in 17 years. The city's hotels have seen a 90% occupancy rate so far, up from 80% last year, according to the South China Morning Post.  It's not that tensions are so much reduced between Hong Kong and China this year, but they're worse between Beijing and Seoul. This year also marks the 20th anniversary of Hong Kong's return to China.