The most groundbreaking clothes at Stella McCartney's recent Paris Fashion Week show weren't on the runway. They were only shown backstage.
On their face, the bodysuit and one pair of generously cut pants with a languorous drape—"parachute pants," McCartney calls them—fashioned from a plummy brown knit so fine it was almost sheer, seemed conventional enough. Except, they were created from a lustrous spider silk—formed without the help of any spiders. Instead, it's a protein brewed with genetically engineered yeast and then spun into fiber strands.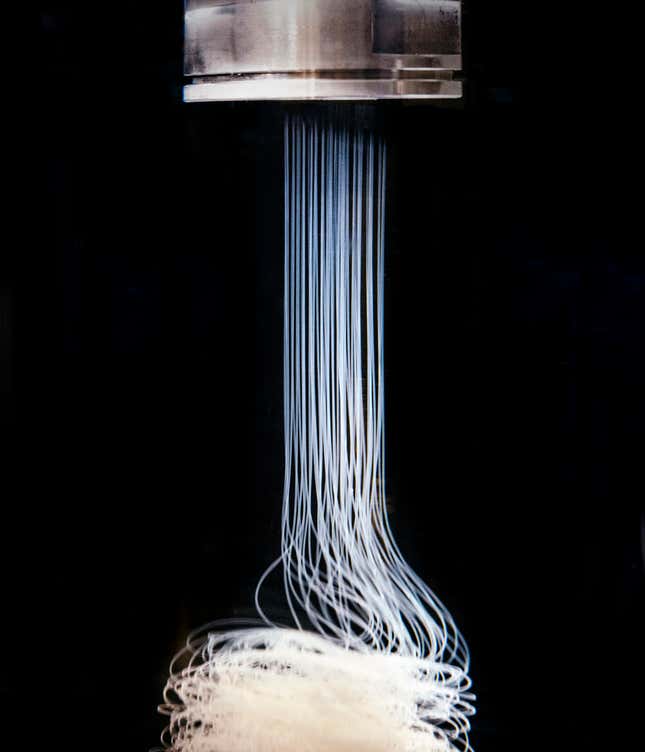 McCartney has a new long-term partnership with Bolt Threads, a California-based startup that has emerged as one of the leaders making synthetic spider silk. Scientists and textile manufacturers had been trying to create a synthetic version of the incredibly strong, elastic silk for decades, but they couldn't work out a commercially viable way to scale production. In the past few years, Bolt Threads, along with Germany's AMSilk and Japan's Spiber, claim to have solved the puzzle, and now synthetic spider silk is finally starting to make its way into actual products.
Mostly these companies have partnered with sports or outdoor companies interested in spider silk for its performance qualities and sustainability credentials. It's tough and elastic, but unlike synthetics such as nylon or polyester, it's not derived from petrochemicals, and is therefore biodegradable. Bolt Threads has teamed with Patagonia, AMSilk with Adidas, and Spiber with North Face. Bolt Threads also acquired outdoor-clothing brand Best Made, and in March introduced what it says is the first spider-silk product ever sold commercially, a $314 tie.
Stella McCartney is bringing this high-tech, spiderless silk into the realm of high fashion. Along with the pieces she revealed backstage in Paris, the designer also has a shift dress in a radiant gold version of the material hanging in the New York Museum of Modern Art's wide-ranging new fashion exhibit.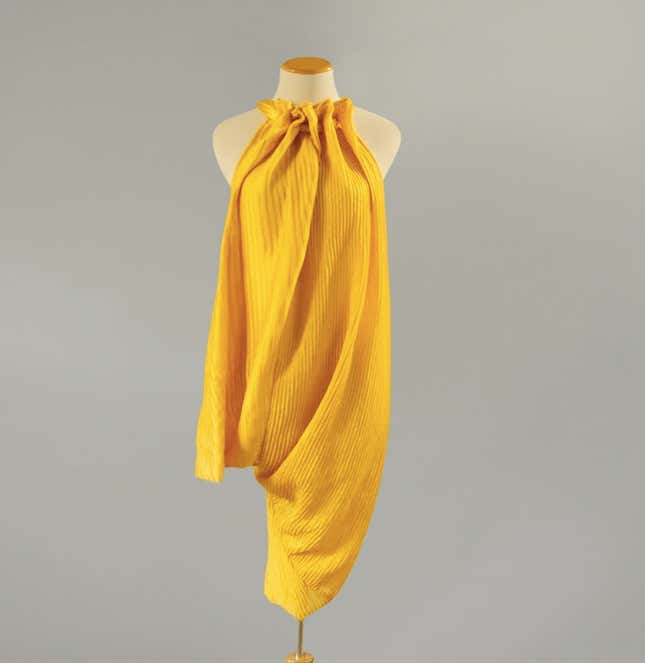 According to Dan Widmaier, CEO of Bolt Threads, his company and McCartney's have been working together for more than a year, though they're only now revealing the partnership. They jointly developed the silk fibers used in McCartney's dresses; Bolt's engineers would create yarns and send them to McCartney and her team, who would reply with feedback. The final result was a derivative of the fiber that Bolt created for its pricey tie, called Microsilk. "Very, very long filaments," Widmaier says, "and it kind of gives you this look and feel with a lot of luster."
The technology fits perfectly with the ethos of McCartney's brand. The label avoids animal products as much as possible. It won't use leather, opting for what McCartney calls "skin-free skin," a high-quality alternative made from polyester and water-based polyurethane.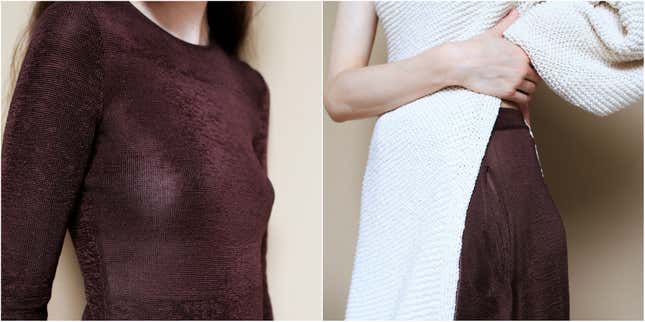 "When I first started in fashion design I never thought there would be a day like this, where we would arrive with such important innovation that fuses fashion, sustainability and technology," McCartney says. "As a lifelong vegetarian I've always struggled with the use of silk and finding Bolt has been a life and career changing moment for me."
During the development process, Bolt unexpectedly discovered something about its silk that might make more fashion designers—not just outdoor brands—interested. To see the fibers and all their minute details clearly on a micro scale, the company adds dye when it examines them. The silkworm silk just didn't hold dye as well. They took it for granted at first, until they realized that, for designers, that quality is a big benefit.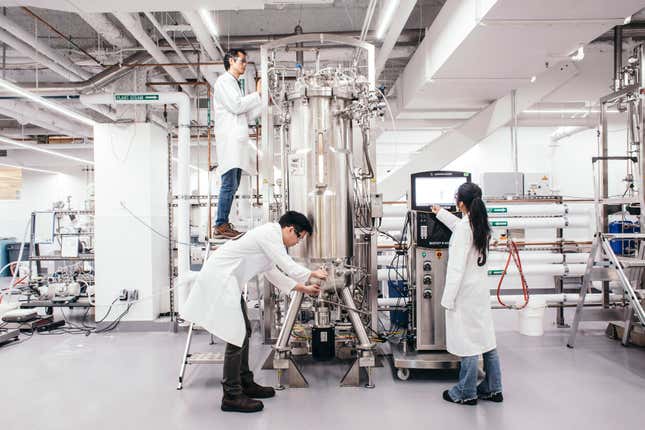 "The fibers we're using right now hold dye six times better than silkworm silk," Widmaier says. "Our spider silk was much more dye-friendly, and so you can get away with less dye stuff, find water-free processes, all these other fun things."
McCartney points out that the silk is still at the early stages of development. Don't expect spider-silk dresses in stores just yet. But she adds the technology is "incredibly exciting from a design point of view."
Widmaier is taking a long view. "Things start slow in biotech and technology, but as they ramp, they move very quickly," he says. For synthetic spider silk, that acceleration is underway.