Deray Mckesson has had not one, but two police officers sue him and Black Lives Matter in the last couple of months. He doesn't seem fazed, however. "It is not a new tactic for people to use any avenue they can to silence black activists," he says.
The Black Lives Matter movement was born five years ago after unarmed 17-year-old African American Trayvon Martin was shot and killed by George Zimmerman, who was later acquitted of his crime of murdering the teenager. The incident took place in America but it grew global prominence after Black Lives Matter used the event to campaign against the negative experiences that black people face in the US and to assemble protests as "a call to action and a response to the virulent anti-Black racism that permeates our society."
Speaking to Quartz at the One Young World Summit in Bogotá, Colombia, Mckesson says he wasn't worried: "I know I didn't do anything wrong." What did surprise Mckesson was that the two officers were suing him anonymously.
"I was most surprised that the officers feared for their safety so they wouldn't put their names on the lawsuit," he says. "That was sort of wild to me. We're the people afraid of you guys. I don't know why you're acting [like] you're afraid of us."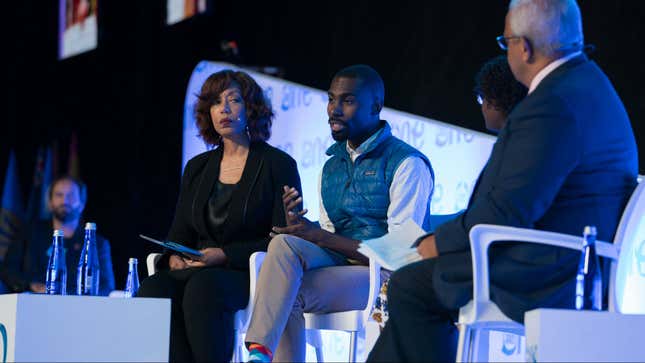 At the heart of both lawsuits is the Baton Rouge protest in 2016, where police officers clashed with Black Lives Matter protesters. The protestors were demonstrating against the shooting and subsequent death of Alton Sterling by hands of two white police officers. US prosecutors did not file charges against the officers, citing insufficient evidence. At the protest, dozens of protestors were arrested, including McKesson.
In the first case, a police officer who was hit with a rock during the protest (injuring the officer's jaw and teeth), claimed Mckesson "incited the violence… was in charge of the protest" and also claimed that he saw and heard Mckesson give orders that led to incidences like this. The officer, who had also sued Black lives Matter, had his case dismissed.
"Although many entities have utilized the phrase 'Black Lives Matter' in their titles or business designations, Black Lives Matter itself is not an entity of any sort," Brian Jackson, a US district judge, wrote in his ruling. The judge also noted that Mckesson "solely engaged in protected speech."
The second lawsuit against Mckesson and Black Lives Matter was filed on behalf of the sheriff's deputy, who was wounded by a gunman a week after the protests (the gunman went on to shoot and kill three other law enforcement officers in Baton Rouge in 2016). The suit accused Black Lives Matter and five of its leaders of inciting the violence that led to the killings. The judge intends to dismiss the second suit too.
Mckesson won't be silenced
When asked if he's thinking about running for office again (Mckesson finished sixth in the Democratic primary to be Baltimore mayor in 2016), he says "maybe." He's keen to point that young, black activists have been entering government. Last March, Randall Woodfin, aged 36, became the youngest mayor in Birmingham, Alabama in US modern history.
"We'll see a lot more young people run, which I'm excited about," Mckesson says, who insists it's vital for activists to be as "organized on the inside as we are on the outside." And with the 2018 midterm election just a year away, "more people than ever understand what's at stake," he adds.
It took decades for the civil rights movement to make concrete gains, Mckesson says, and Black Lives Matter has only been operating for a few years. That said, "the conversation about race and justice is completely different then it was three years ago," Mckesson says. "And I think we will continue to see laws and structures change."
The One Young World, which gathers 1,300 young leaders from all 196 countries to tackle the globe's most pressing issues, contributed to accommodation of the writer's trip to Colombia.