Until recently, a credit-rating system for individuals was a missing piece in China's rapidly evolving financial markets. After Beijing announced about three years ago that it wanted to build a "social credit system" by 2020, Chinese tech companies and local governments (paywall) alike turned to data mining to gauge creditworthiness based on a wide variety of behaviors.
In 2015 Ant Financial, an affiliate of Chinese e-commerce giant Alibaba, was among the first to launch its own credit-rating system. Called Sesame Credit, it is today considered the nation's primary service of its kind, although internet giant Tencent is beta-testing a system of its own. 
The Sesame Credit score is enabled through Alipay, a payment app with over 500 million users. I tested Sesame Credit upon its introduction and learned my ranking was crappy. As Sesame Credit scores are updated on the sixth of each month, I realized that it has been two years since I generated my score for the first time.
So how did things go? As of Oct. 6, my Sesame Credit score stood at 669 points, up from 588 two years ago. The Alipay app tells me that's an "excellent credit" result landing in the upper half of the 350-950 range.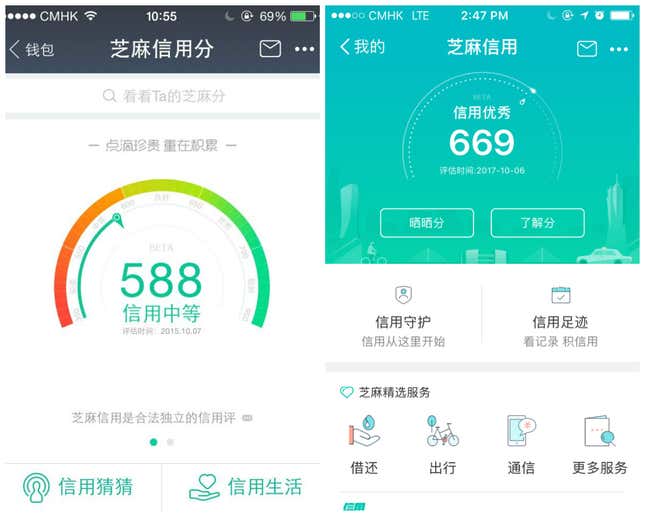 The better score is nice and all, but it does not stem from me having become a more trustworthy borrower; instead, it reflects the fact that I've become a more loyal Alibaba customer. That's because Sesame Credit—at least for now—is mainly designed to lure users to spend more money using Alipay. Those with higher scores get discounts and other benefits.
Sesame Credit is generated from five categories of user data: purchases made using Alipay, personal information, timely payments on bills, timely payment on credit cards, and the number of one's friends on Alipay. Ant Financial doesn't provide details on how the algorithm actually works, but Alipay users can see from a pentagon-shaped diagram roughly how well they've done in each area.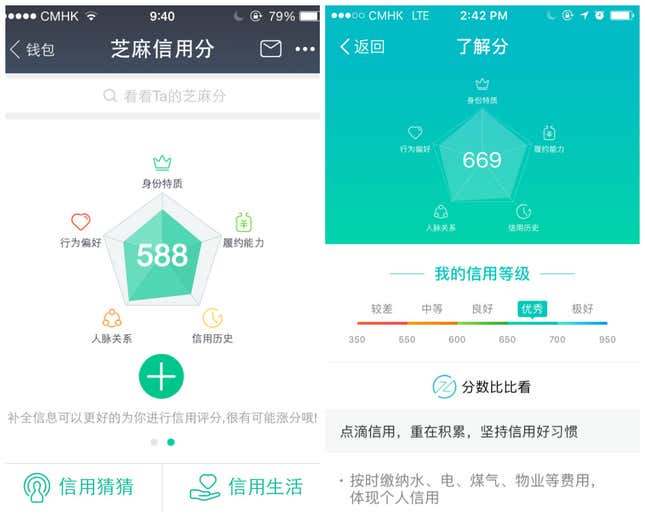 My diagram improved in each category in the past two years. I spent a lot more through the Alipay app during the period, mostly for travel and restaurants. I also played around with two new features within the app: One is a location-based, augmented-reality game that lets users collect virtual red packets containing real money—sort of like Pokémon Go but with a Lunar New Year theme. The other is a social group service that embeds a tipping function. Although I didn't earn or give away anything significant via the two features, I'm guessing my participation at least helped me rack up a few points in the "social engagement" category. (I've reached out to Ant Financial to comment on my score and will provide an update if I hear back.)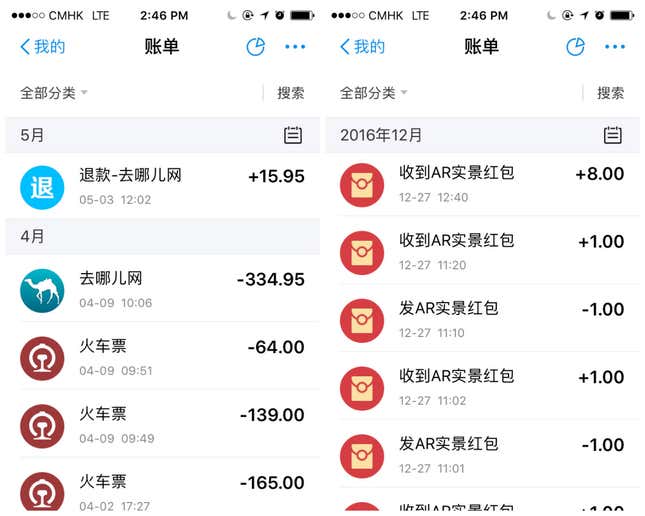 Two years ago, my middling Sesame Credit score entitled me to nothing more than a five-day VIP membership for a dating app. Today, I can among other things waive deposits when using some of China's most popular hotel-booking and bike-sharing services, thanks not only to my improved score, but also to more companies partnering with Alipay.
Alipay reminds me in the app that my score will be evaluated "more thoroughly" after I complete my personal information, including academic degrees, work email, and property-ownership certificates—things I don't feel comfortable handing over to Alibaba. Many, myself included, fear that the Chinese government will eventually snoop into the data collected by private companies for surveillance purposes, despite how purely commercial Sesame Credit looks at the moment.
Correction, Jan. 10: This article earlier stated that Beijing intends to give every citizen a credit score. It is still unclear how government "social credit" systems in development will rate individuals.