The fantasy series, Supernatural, created as a modern-day Western by Eric Kripke, follows two brothers who hunt demons, monsters, and other supernatural beings across the US.
The show doesn't have the vast legions of fans of mega-hits like Game of Thrones and The Walking Dead. It's not even the most-watched series on the US TV network that carries it; it only averaged 1.68 million live-and-same-day viewers last season, in contrast to Game of Thrones, which is on a premium network and still gets over 10 million viewers.
But the protagonists, Sam and Dean Winchester, have an uncanny ability to find and retain audiences. Returning tonight on the CW channel for a 13th season, it is officially the longest-running live-action genre show currently on US TV.
It also is able to unite Americans in a way that few things–on TV or otherwise—are able to do in these polarized times. During the highly contentious 2016 US presidential election season, Supernatural was a rare show that was beloved by both US Democrats and Republicans, a survey by E-Poll Market Research showed. It was the favorite series among Republicans, and the third favorite among Democrats surveyed by the firm, which regularly polls US audiences about TV shows.
A New York Times study (paywall) that tracked Facebook likes for TV shows also found the show was especially popular in rural America, and had a "non-urban white audience pattern." That's only part of the picture, however, as many people do not "like" shows on Facebook, even if they are fans.
The show has won over audiences elsewhere, too. Supernatural's biggest fanbase is now in Russia. It was roughly three times as popular there as in the US as of October 10, according to Parrot Analytics, which measures audience demand based on things like viewership, social media, fan- and critic-ratings, and piracy.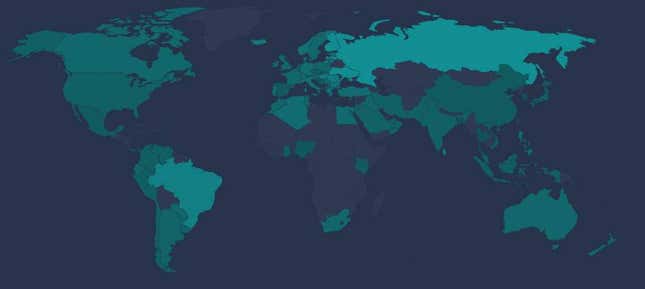 Globally, Supernatural was the 18th most popular TV show in October, behind the original Stephen King's It mini-series, which was recently rebooted on the big screen, and ahead of Fox's Gotham, according to Parrot.
The fantasy series was never the CW's most popular show; Kripke said it wasn't until the fourth season that he really felt that he was on solid ground at the network. It's been one of the most reliable, though, which has kept the series alive, even after its original network home, the WB, changed ownership and became the CW in 2006.
Supernatural steadily ranks among the network's top shows season after season. It has fan conventions around the world. And it has propelled some of the network's biggest hits. The CW president Mark Pedowitz told Variety in 2016:
Supernatural was paired with Vampire Diaries for its first season; Supernatural was paired with Arrow for its first season. Supernatural was paired with The Flash for its first season. Supernatural is now back on Thursday at nine, and we believe it'll be a great boost to Legends of Tomorrow. So Supernatural, in a weird way, even though it's the lead-out, has had a direct impact on some of our bigger hits.
The long-running show was paired up with popular newcomer Riverdale last season, too. Supernatural's stars, Jared Padalecki and Jenson Ackles, have talked about ending the supernatural saga after 300 episodes—264 have aired so far.