Jamie Dimon just can't win with bitcoin. After a series of critical comments about the ever-appreciating cryptocurrency, yesterday JPMorgan's chief executive pledged to stop talking about it. Bitcoin promptly set a new record price of $5,821 in intraday trading today, up some 11% after Dimon's pronouncement.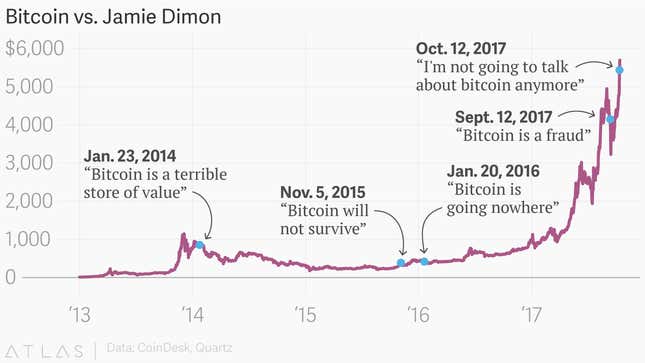 Last month, Dimon called bitcoin a "fraud" during a momentary bout of price weakness. Inconveniently, around the same time a JPMorgan brokerage unit started scooping up a bitcoin asset tracker listed in Sweden on behalf of clients. This led to a complaint with the Swedish regulator, accusing Dimon of market manipulation.
Dimon's history with bitcoin commentary goes back to 2014, when he declared it a "terrible store of value." Since then, his public declarations about bitcoin have generally been followed by an eventual rise in the cryptocurrency's price. It's almost as if bitcoin's whales are toying with him.