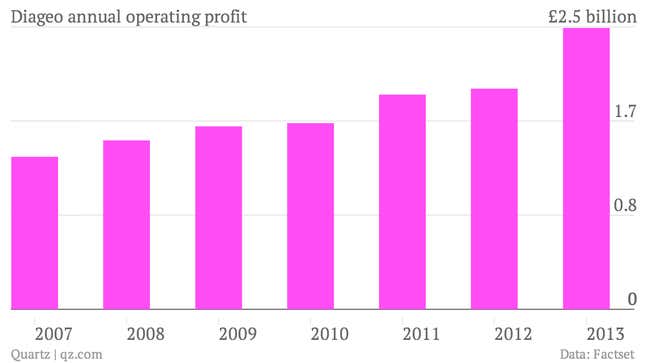 The numbers: The world's largest spirits maker said net profit for the year ended June 30 was up 8%, at £2.49 billion ($3.8 billion). Revenue was 6% higher. Shares were up 2.5%.
The takeaway: American tipplers are helping. After stripping out currency fluctuations, sales were up 5% in North America, helped by sales of Crown Royal and Bulleit bourbon. Sales only rose 3% increase in Asia-Pacific, and they fell 4% in Europe.
What's interesting: Diageo's plan has been to expand in emerging markets, which now make up 42% of its total turnover. Yet those markets are proving somewhat unstable. The company named slower sales in Brazil, in part of new laws against drunk driving, as well as in Nigeria, China and South Korea. Still, even though other high-end liquor makers are struggling in China, the result of a crackdown on conspicuous spending among government officials, Diageo is expanding. Earlier this month, the company took a controlling stake in the Chinese liquor maker Shuijingfang for £233 million.