Cutting waste is one of the hottest trends in food. Chefs are throwing dinner parties focused on preparing food that would have otherwise gone to waste, cities are pledging to reduce discarded food, and you can even ask Amazon's Alexa what to do with your food scraps. Now a new documentary from chef and TV personality Anthony Bourdain wants to bring the issue of food waste into movie theaters, living rooms—and hopefully kitchens—around the country.
"This is unlike everything else I've ever done," Bourdain told Civil Eats. "This film actually intends to do some good—that's a departure for me."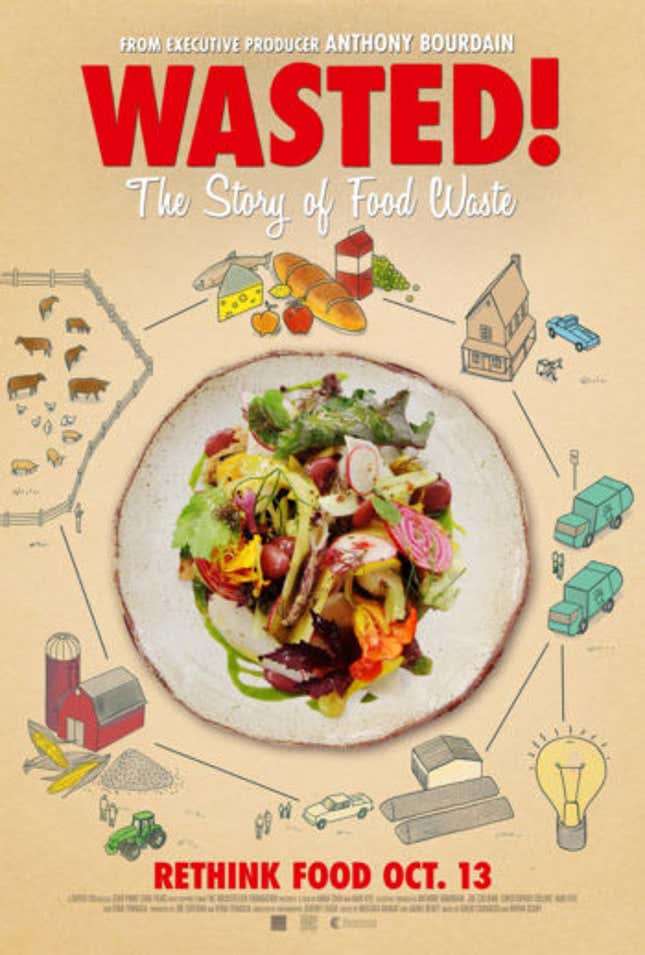 "WASTED! The Story of Food Waste," stars not only Bourdain, but also a whole host of chefs and food leaders, including Dan Barber, Danny Bowien, Mario Batali, Eve Turow Paul, Dr. Judith Rodin, and Italy's Massimo Bottura. The film debuted Friday (Oct 13) in theaters and on-demand from Amazon, iTunes, and Xfinity. Produced by Zero Point Zero Films with support from The Rockefeller Foundation, the film takes viewers around the world to explore both the problem of food waste and possible solutions.
"The average American household wastes a couple thousand dollars worth of food a year, just throws away edible food," said Bowien—who admitted he hadn't known the statistics when he got involved with the film. "My inspiration was really that I didn't know anything about food waste; I came to it from a very naive perspective."
The statistics are staggering: According to the film, about one-third of the food grown around the globe every year is never eaten. That accounts for 1.3 billion tons of food annually, worth roughly $2.18 billion. In the US, families toss about 25% of the food and beverages they buy. Meanwhile, roughly 800 million people around the world are starving.
"Go to any Whole Foods and look at the produce counter. A huge portion of that is for design," Bourdain said. "It's understood ahead of time it's going in the garbage. It's there just to make it look abundant and attractive—and that's pretty horrifying."
Those statistics, however, and the larger issue of food waste aren't anything new to the Whole Foods and farmers' market set; and because of that Bourdain admitted he was reluctant to do the film at first. "It was a serious role that I didn't know if I was suited for," he said. But directors Anna Chai and Nari Kye didn't want to make a documentary that was preaching to the choir. For that reasons, engaging celebrity chefs seemed crucial.
"We started with the chefs and then as we researched solutions around the world, we met people who were coming at the issue from different places: economics, environmental, moral," said Chai.
The film follows chefs and food advocates as they visit and learn about possible solutions to food waste. Bowien, for instance, travels to Tokyo and Chiba, Japan, where the Japan Food Ecology Center is transforming food waste into nutritious feed for pigs. Bowien meets pig farmers and chefs and explores how feeding pigs different types of food scraps can affect flavor.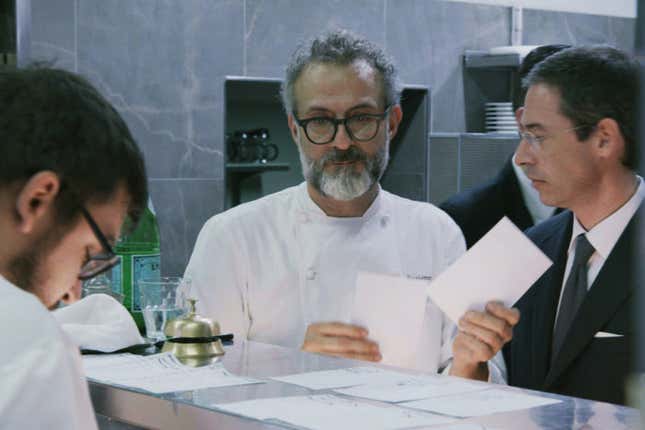 Mario Batali takes viewers to the New York trattoria Esca where he meets fisherman and chef Dave Pasternack; the two discuss "trash fish," bycatch, and how chefs and fishermen can work together to introduce diners and create demand for lesser-known, under-loved fish.
Bourdain said he was struck by Seoul's method of dealing with food waste. Residents there are required to separate organic waste from recycling and other household waste, as is increasingly common in US cities. But from there, each household's food waste is weighed and recorded and residents are assessed a fee at the end of the month based on the weight of their organic waste.
"Those who are putting a bigger burden on the environment have to pay. That's not something that's particularly American in concept," Bourdain said. "But it's something that, if we don't get our act together, we might be compelled to do."
No one involved in the film believes that one movie will change habits overnight, but they do hope it can add to the larger chorus of NGOs, individuals, and restaurants working to reduce waste. "We want audiences to leave empowered to do something," Kye said.
"Trending doesn't have to be a dirty word," said Devon Klatell, who as an associate director at The Rockefeller Foundation manages the organization's food-waste initiatives. In 2016, the foundation committed $130 million to cut food waste and post-harvest losses in half by 2030. "We hope people will internalize the message," she said.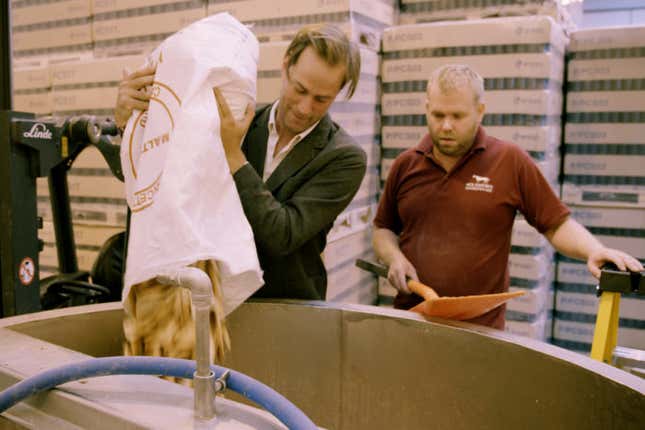 The film is just one part of The Rockefeller Foundation's commitment. In the coming months, they're partnering with the World Wildlife Fund to reduce food waste in hotels, with the James Beard Foundation to develop a curriculum on waste prevention, and with the Natural Resources Defense Council (NRDC) to look at how and why food gets wasted in cities and how governments can cut waste in homes and businesses.
But the filmmakers say the movie is generating needed attention for the problem of wasted food.
"I'm an optimist, and this is something we can change. It's something everyone can affect," Bowien said. "Plan [when] you shop—it's easy for us as chefs—but plan ahead, make a list, work from a list, plan what you can make a second meal out of."
"WASTED: The Story of Food Waste" premieres in theaters and online on October 13, 2017; watch the trailer for the film below, and visit WastedFilm.com to learn more.
This interview has been edited for clarity and length. This article originally appeared on Civil Eats.