Most of China's screens this morning (Oct. 18) were dominated by one face: Xi Jinping's.
To kick off the weeklong 19th Party Congress—considered the country's most important political event—the Chinese president gave a three-and-a-half-hour address at Beijing's Great Hall of the People. The congress, which takes place twice a decade, is closely watched both inside and outside of China for signs of the country's policy direction as well as major leadership changes.
The speech was broadcast live by state media like CGTN to make sure the entire nation heard his "work report" summarizing the party's achievements over the past five years and highlighting China's economic developments, party leadership, anti-corruption, and foreign policy. Dry as the topics may be, the event spawned many watch parties across the country.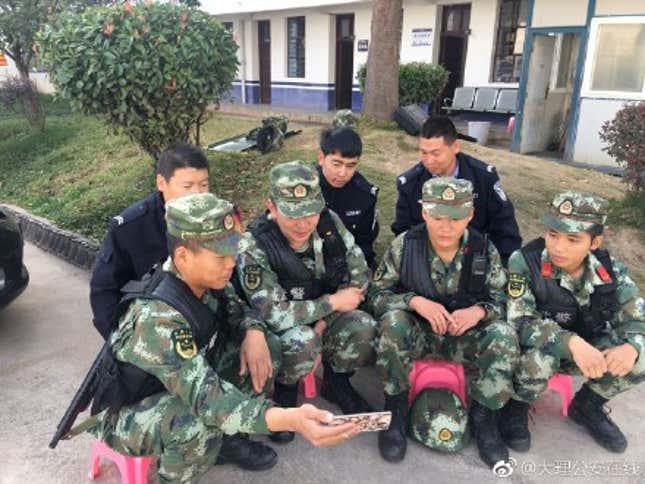 On Weibo, China's version of Twitter, a search for "收看十九大" ("watching the 19th Party Congress") shows a slew of results of people gathering around screens. Most of the group-watching events were organized by party branches in schools, government departments, and companies across the country.
In Dali of Yunnan province, seven public security officials (left photo) can be seen staring at one one smartphone (link in Chinese) to watch the event. At a watch party in Se Xu, a small town in Ganzi Tibetan Autonomous Prefecture of Sichuan province, organizers put up a banner that read "Long live the great Chinese Communist Party," according to pictures (link in Chinese) from the prefecture's Chinese Youth League branch.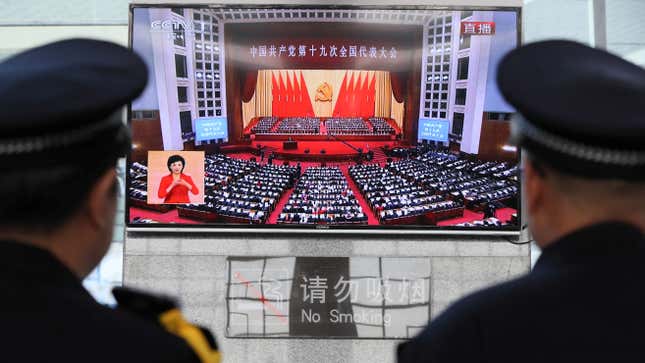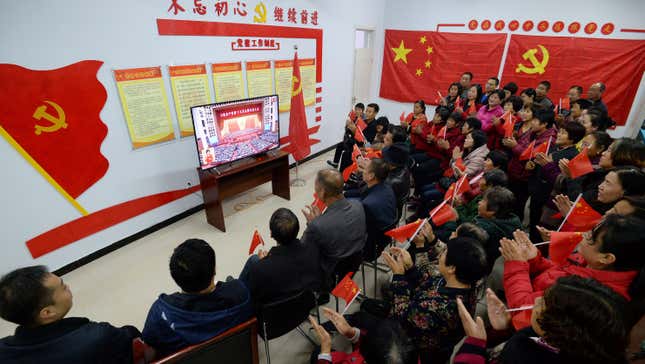 The congress also made its way into local kindergartens. In Anqing of China's central Anhui province, a group of children can be seen sitting in front of one big screen with Xi's face on it, according to the official Weibo account (link in Chinese) of a local public security bureau. It's unclear the impression the speech left on these young minds.