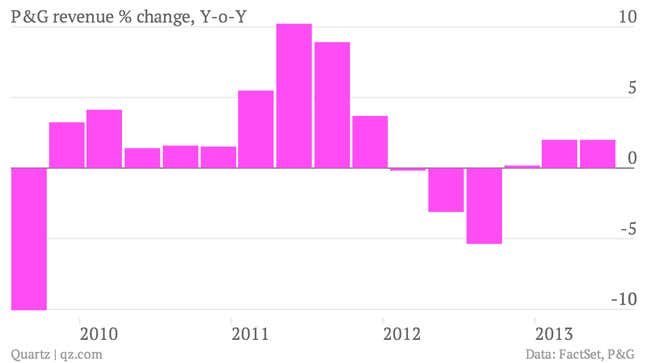 The numbers: They were good. Procter & Gamble reported earnings per share of $0.79 in the fiscal fourth quarter on revenue of $20.7 billion, beating analyst estimates. Shares were up slightly in pre-market trading by more than 1%.
The takeaway: The normally steady P&G, which sells everything from Charmin toilet paper to Olay beauty products, has had a tumultuous year because of a lagging stock price. Activist investor Bill Ackman bought a stake in P&G and called for management changes. P&G also brought back a past CEO, AG Lafley, to replace Bob McDonald. His hiring was cheered by the markets and he seems to have done a decent job so far. But the organic sales growth of about 3% for the fiscal year is still below that of competitors, who reached around 7%. Hair- and skin-care segments were down, partly because of price cuts and increased competition, but razors and blades were up because of emerging-market sales.
What's interesting: The devaluation of the Japanese yen has knocked 2% off P&G's revenue. P&G expects that will continue into the next fiscal year. Sales for products in baby care and beauty were among the hardest hit by the unfavorable foreign exchange rates.