Portuguese president Marcelo Rebelo de Sousa appeared in some stirring scenes yesterday (Oct. 19), as he comforted survivors of the country's devastating wildfires. He hugged and kissed elderly victims in the town of Santa Comba, toured a scorched industrial park and even ventured into a gutted building to view the destruction firsthand.
That's politics. In the wake of wildfires that claimed more than 100 lives this week, a spotlight is on the Portuguese government. Its leaders have been accused of indifference, and criticized for failing to combat the spread of wildfires after a deadly earlier flare-up in June. The interior minister has resigned, after pressure for her to step down, and Rebelo de Sousa has suggested dissolving the parliament (which is currently dominated by the rival Socialist Party).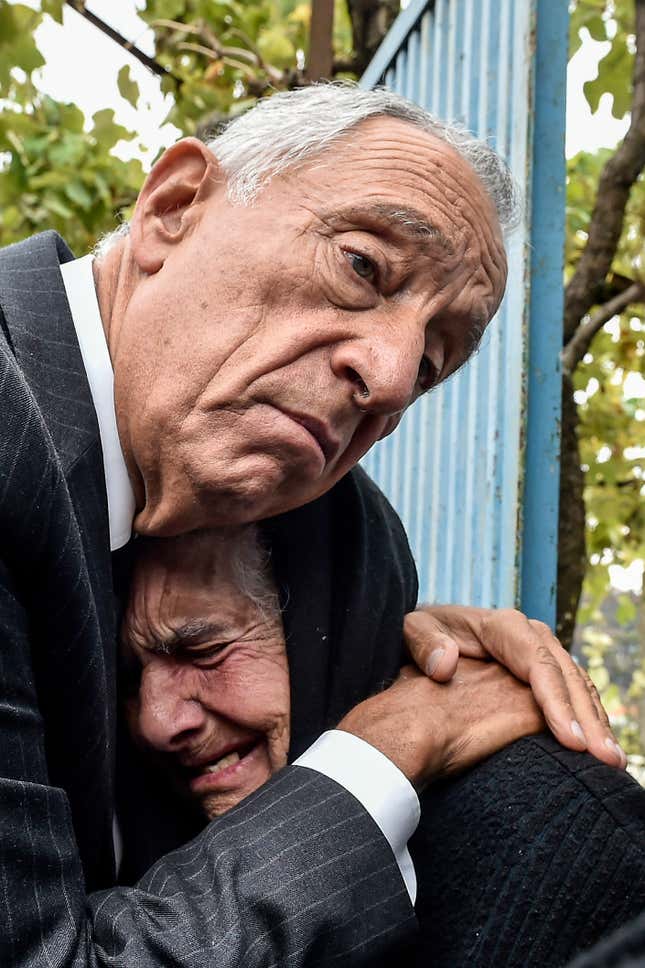 Disasters give leaders a chance to rise above preconceptions and well, look like leaders. Photo-ops at the scene of devastation can be trite, but they're a rite of passage for those who wish to inspire and lead their people. Rebelo de Sousa's posture in these photos, constructed as they may be, bears striking contrast to the cool response of US president Donald Trump to recent US natural disasters on his watch.
As the Atlantic notes, Trump's public appearances and remarks post-disaster often seem to minimize others' suffering, rather than attend to it. Trump's visit to hurricane-hit Puerto Rico was confined primarily to the less damaged wealthier areas (paywall), and his contact with victims minimal. The most iconic moment was his tossing of paper towels into a crowd.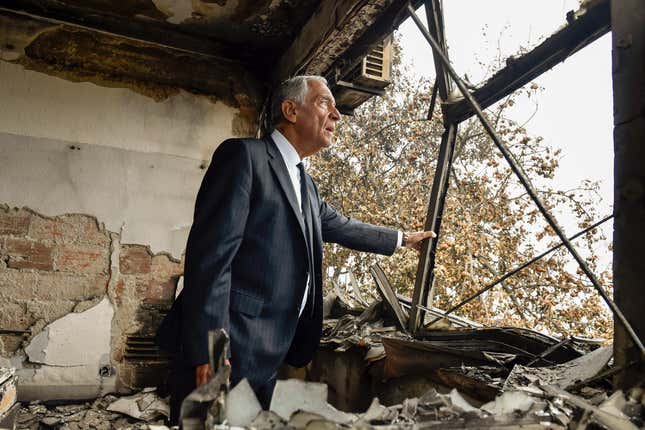 Unlike the US president, the role of the president in Portugal is primarily ceremonial, with day-to-day governing the responsibility of the prime minister. But both leaders have used these terrible moments for different political actions. Rebelo de Sousa has used this moment to console victims and place blame on other members of government, while Trump attempted to burnish his own administration's performance as a "ten out of ten" and deflect accusations of incompetence.
While Rebelo de Sousa's political motions might be a canny response to the opposite party's bungling of a disaster, his ability to publicly take in the devastation gives him authority. Trump, on the other hand, has been strongly criticized for his apparently avoidant response to natural disaster. At time of writing, he had announced no plans to visit the scene of wildfire destruction in California.