Asia's manufacturing sector is running out of steam. After a positive start to the year, the HSBC-Markit Purchasing Managers' Index (PMI) for the region's six major economies are all either hurtling towards 50, the point that separates expansion from contraction, or are already languishing below it.
Three of those countries—China, Taiwan and Vietnam—have been contracting for the last three months, due to weak demand from domestic consumers and a reduction in new business from abroad. South Korea too has been in dire straits, with July's PMI reading falling to the lowest level since September 2012.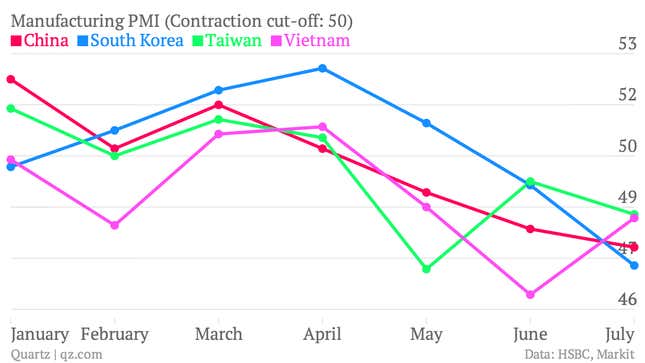 India and Indonesia have been relative out-performers this year. But India's PMI reading was barely above 50 in July, as a decline in new business orders dented manufacturing activity. High inflation, a persistent current account deficit, and a weak currency has hurt Indian businesses, and dragged the economy to the slowest growth rate in a decade.
Indonesia's government expects its economy to grow at 6.3% this year, but the weakness in the manufacturing sector, which has been declining for four straight months, could eat into that forecast. The central bank's two rate hikes since June to combat inflation and halt foreign outflows are also weighing on the economy.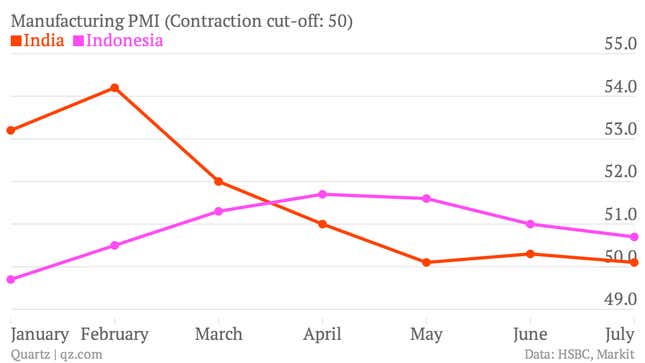 The surprising divergence between government and private readings of China's manufacturing sector continued in July. The HSBC PMI survey, which looks at smaller firms, fell to 47.7—its lowest level in 11 months. But the government's official PMI index, which mostly surveys large state-owned companies, defied forecasts of a contraction, coming in at 50.3. Economists differ on what's driving the divergence, but one of the more popular theories is that the recent credit squeeze in China affects smaller companies more than state-owned enterprises.