Gay bars across the world are taking a stand against Russia's recent anti-gay laws by swearing off Stolichnaya, a brand of Russian vodka made from wheat and rye. But there are some pretty good arguments for why the boycott is misguided.
Despite its Russian roots, not all Stoli is produced in Russia. There are two companies with rights to the Stoli brand: The Stoli that most bar-goers in the US, the UK and Canada drink is made by the company SPI  based in Luxembourg, which produces the spirit in Latvia. Another is state-owned spirits maker FKP Soyuzplodoimport, which produces and sells Stoli in Russia. Today, activists in Latvia called on the international gay community to give up the ban, and last week, Nikolai Alekseev, a gay activist in Russia called the boycott a "symbolic gesture doomed to failure."
Even vodkas the US does import that are made in Russia, like Russian Standard or Putinka, aren't as heavily imported as other Russian products like crabs, diamonds and firearm cartridges. Here's how vodka imports to the US from Russia stack up, according to US trade data for last year: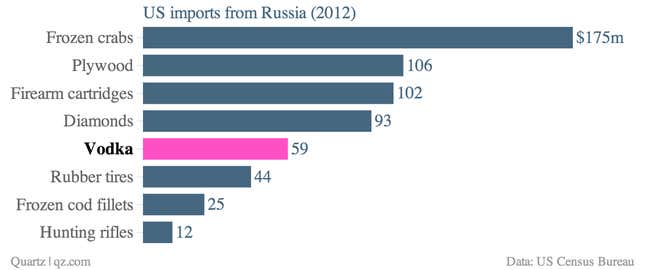 America's top import from Russia is petroleum products like crude oil, gasoline, ethanol and biodiesel. As Russia tries to boost its role as a major global oil exporter, a drop in US imports of petroleum, which have been increasing over the last decade, would be more painful. But because that commodity has a complex and opaque supply chain, it would be far more difficult to boycott than branded products like Russian vodka.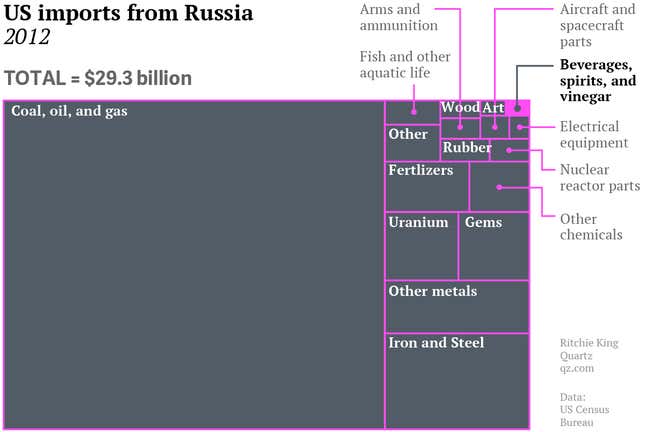 No matter the focus of the boycott, it's not likely to compel the Kremlin to overturn laws that fine people who "propagate" homosexuality to minors or that bar gay couples from adopting Russian children. The US is Russia's fourth largest export market, accounting for for 3.2% of Russian exports in 2011, but it is nowhere near as large an importer as the European Union, which accounted for 45% of Russian exports. The US also imports less, in terms of value, than China and Ukraine.
Activists may argue that a boycott of Stoli is an important symbolic gesture, but hurting SPI's business might actually play in the Russian government's favor. Since 1997, SPI has been locked in a trademark fight with the government, which wants to claim exclusive rights for Stoli for FKP Soyuzplodoimport, the state-owned producer of the liquor that sells it in Russia and a few other markets. Putting SPI out of business could mean more sales for Soyuzplodoimport, and by extension, more funds for an anti-gay government.