The German government wants refugees to know the truth about coming to Germany by dispelling the lies they've heard from people traffickers.
The Federal Foreign Office today (Oct. 23) launched the RumoursAboutGermany.info website in French, English, and Arabic. It's part of the government's ongoing #RumoursAboutGermany public awareness campaign that's been running in places such as Afghanistan and Pakistan since 2015.
The site lists the seven biggest lies told by smugglers, based on what refugees told European media. The top lie: "The ship for the crossing is very big, it even has a pool and a cinema." The site explains that human traffickers use old, unseaworthy boats so they can make as much money as possible, adding that more than 5,000 people died crossing the Mediterranean in such boats last year.
Next up is that "Germany has reserved 800,000 slots for Afghan refugees alone." The site says no such slots exist and every case is examined individually.
It counters other trafficker promises, including that every refugee receives a welcome payment of €2,000 and a house of their own in Germany. The site also notes that the rumor "if you don't like it in Germany, they'll just give you a visa for Canada" is "straight nonsense." No such agreement exists between Germany and Canada.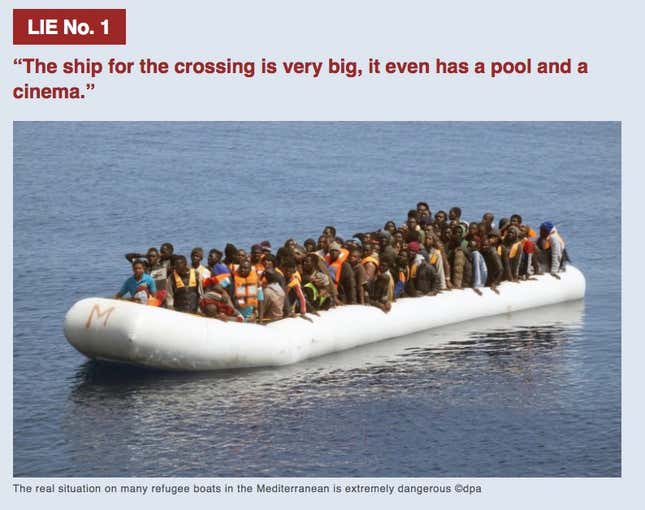 Under a section of "true or false" statements, smugglers' promises that "you'll be rescued after two hours in a rubber boat" is false, according to the ministry. "Will your life in Europe be easy – true or false?" is answered in the negative, pointing out that life is difficult in an expensive country like Germany if you don't speak German or have the right education to get a job.
The Federal Foreign Office says the website's goal is to inform, not deter refugees, as "many irregular migrants make the decision to set out for Europe based on inaccurate information and rumours spread by people smugglers who are interested in profit, not the benefit and safety of the migrants."