Since the recession hit, economy-watchers have awaited a big blow-out US jobs number that conclusively shifts the recovery into higher gear. Tomorrow's 8:30 a.m. report could be the day. Some related indicators have looked pretty rosy recently:
1. We've already mentioned initial jobless claims today. This, the most reliable, high-frequency US jobs metric—while subject to seasonal adjustment issues around this time  of year—suggests that the job market is in the best condition it's seen since January 2008.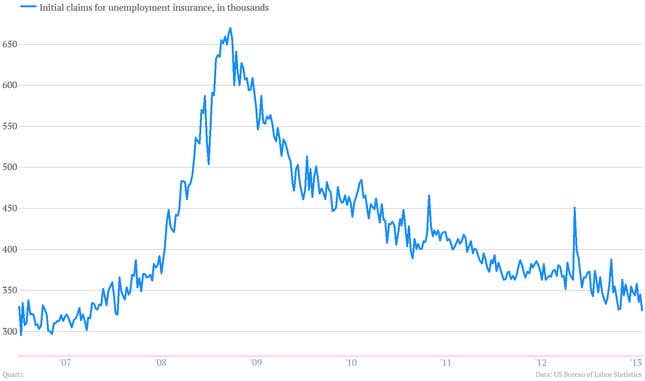 2. The employment index embedded in the Institute for Supply Management's manufacturing survey bounced sharply higher in the just-released July numbers. That's the highest since June of 2012.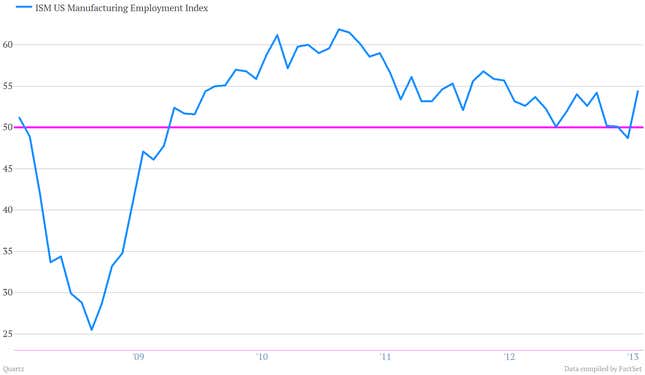 3. It's not the most reliable metric. But data from the much-maligned ADP survey of private businesses suggested strength among private employers. The ADP data showed some 200,000 private jobs were created in July. Count us skeptical, but we'll see.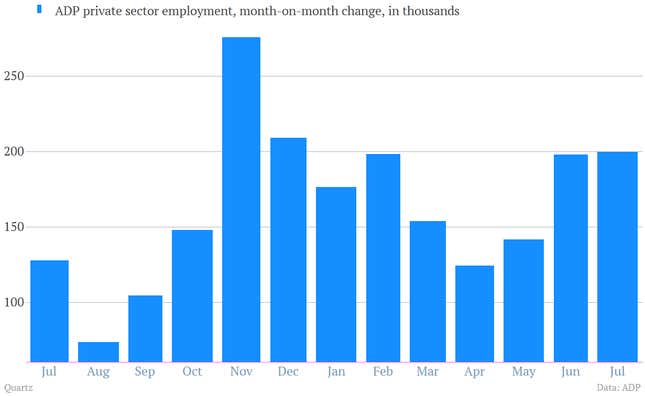 4. One of the Fed's first July data points, a regional survey of manufacturers in the state of New York, showed employment bouncing back into positive territory after threatening to shrink in June. Of course, it's just one state, so the data are limited in scope. But it adds a bit of information to the picture.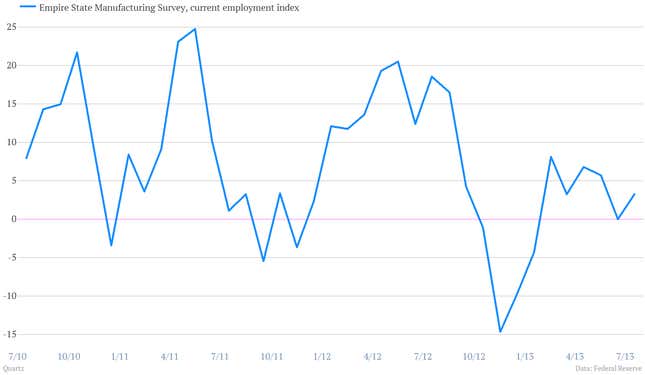 5. Another metric of how things have been looking in July can be seen in the latest Conference Board consumer confidence data. The gap between the percentage of respondents who described jobs as being "hard to get" and those who describe jobs as "plentiful" fell to its lowest level since late 2008. It's still pretty elevated by pre-crisis standards. But still, it's moving in the right direction.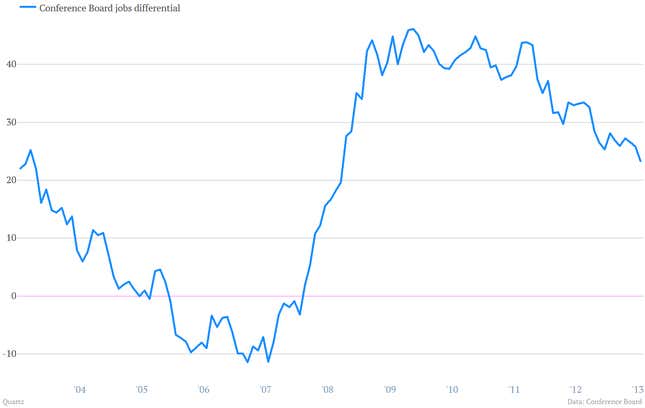 Make sure to check in with Quartz early Friday—where we'll have charts updated almost instantly—as we'll be covering the jobs report from all angles, before and after it is released at 8:30 a.m. in Washington, D.C.