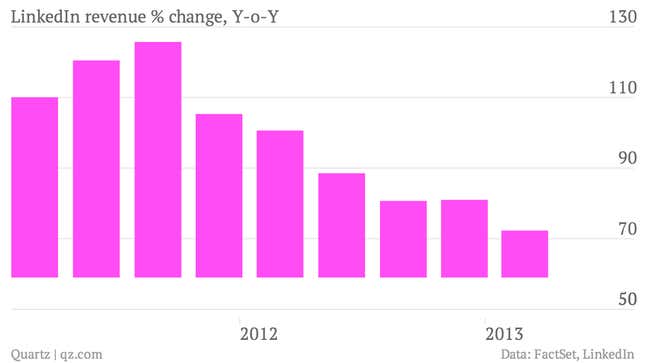 The numbers: They were good. LinkedIn reported earnings per share of $0.38 on revenue of $364 million, which beat analyst estimates. Shares were up by more than 6.5%.
The takeaway: LinkedIn does it again. The social networking site had consistently beat estimates but investors were disappointed by its slowing growth in users last quarter, causing its shares to fall after earnings. But this time, LinkedIn went back to its usual ways, reporting that membership grew by 37% to 238 million. Revenue from premium subscription products was up by 68% to $73 million. Like other social media companies, one of LinkedIn's priorities is boosting advertising revenue. It reported a 36% bump in its marketing solutions revenue to $85.6 million.
What's interesting: LinkedIn did have one piece of bad news reflected in its guidance for the third quarter. The company said it expects revenue to come in between $367 million and $373 million, which was below expectations. That caused shares to be a little bit bumpy in after hours trading. But it did have a more positive outlook for the overall year, raising its 2013 revenue outlook to $1.46 billion to $1.48 billion.