Earlier in October, Google unveiled a litany of new gadgets that were intended to draw a line in the sand refuting perceptions that it couldn't make hardware as impressive as anyone else. But after a few reviews, the software giant may want to back off that idea.
Last week, Quartz reviewed Google's new Pixel 2 and Pixel 2 XL smartphones. The hardware on those new devices didn't seem quite as impressive as competitors' devices that cost roughly the same. This week, we're faced with an inverse problem with Google's newest laptop-shaped object, the Pixelbook.
The Pixelbook's hardware is decent, but you're effectively paying $1,000 for a computer that's limited by its software. There's really nothing that the Pixelbook offers that can't be found in a $300 Chromebook running the exact same Chromium operating system.
Here's a quick rundown of some of the laptop's benefits and drawbacks after spending the last week with it:
What's good
Decent battery life. Google claims the battery lasts up to 10 hours, and I found I could use the laptop for at least that long on a single charge with light use. It also charges quickly, with about 2 hours' worth of battery life from just 15 minutes of charging—although you have to use Google's own USB-C charger that comes with the device to get the rapid charging.
It's quite light. The Pixelbook is a thin, easy-to-carry laptop, weighing about 2.5 lbs, making it lighter than Apple's MacBook Pro (though not its MacBook), and Dell's XPS 13 laptops.
Good keyboard. For such a slim device, keyboard was surprisingly enjoyable to type on. It's nicer than the ones found on some of the device's nearest competitors, including Apple's MacBooks (and iPad Pro) and Microsoft's various Surfaces.
Desktop Snapchat! The Pixelbook has access to pretty much every app that's available for download on the Google Play Store for Android devices, which obviously includes the world favorite ephemeral messaging app. I confused friends by sending them messages from my desk, but Snapchat's app, like some Android apps that haven't been specially adapted  for the Pixelbook, isn't quite fully baked (more on that in a bit). Still it's a revelation to have the app on your desktop.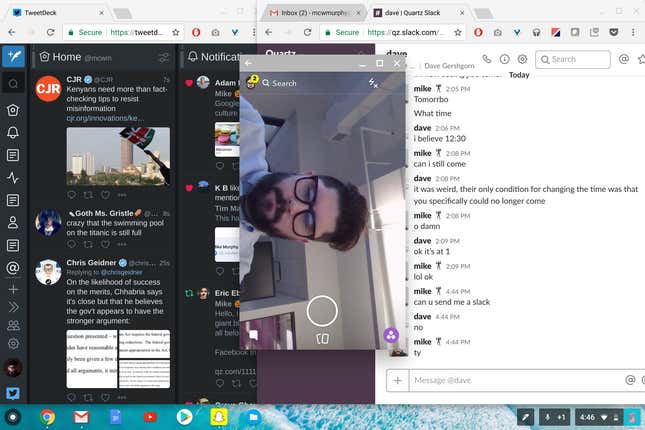 It's a Jack-of-many-trades. The Pixelbook can operate like a traditional laptop, or you can flip the keyboard around to turn it into a (albeit quite heavy) tablet, or you can tent it up so the screen is just in front of you (very useful when trying to follow recipes in the kitchen). You can also flip the keyboard about 180° and use it to prop the screen up, turning the device into a standalone screen.
What's not so good
It's not a full laptop. While you can download many of the apps you'd need to do your work (or homework) on the Pixelbook, it's not really the same experience as just using a regular laptop. Many apps, like Slack, Snapchat, and Twitter, open up as rectangular windows (often shaped like a smartphone screen) that just mutate into the tablet version of that app when made fullscreen. I couldn't figure out how to change the font size on Slack (beyond resizing the resolution for the entire laptop), and Chromium's default setup for many apps is to open them as tabs in Chrome, rather than standalone apps. For example, the computer comes "installed" with icons for Gmail, Google Docs, and YouTube, but clicking on any of them, will just take you to a new Chrome tab. I haven't used too many Chromebooks, and it took me far too long to realize I could just download each of these apps from the Play Store so that I didn't have to keep flitting between tabs to get any work done.
But between tablet apps and the fact that the Pixelbook doesn't run some of the more powerful pieces of software available on other laptop-shaped objects (like Photoshop, proper music- or video-editing software), it's not entirely clear why anyone would choose this $1,000 machine over a regular laptop.
It's aggressively angular. It's almost as if Google was trying to make the opposite of a MacBook. The edges of the device are all sharp corners, including the annoying little dip between the trackpad and the palm rests. It also makes the device quite uncomfortable to hold in tablet mode.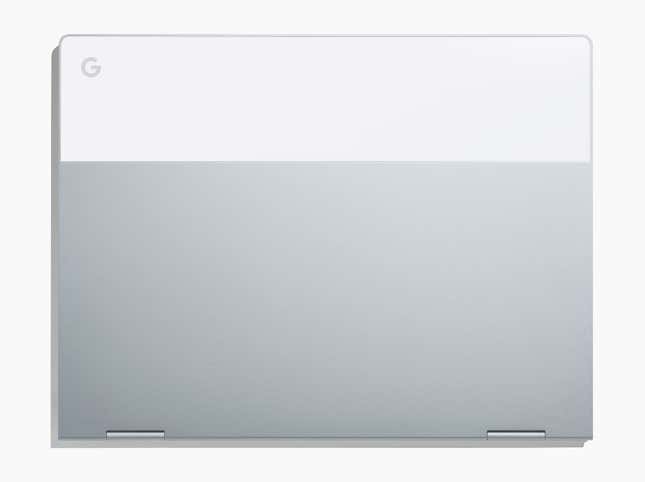 The square screen is odd. The aspect ratio of the screen is closer to a square than most laptops and PC screens have been since the 1990s. It's not necessarily better or worse than other screens (though obviously you have less real estate to play with), but it did take some getting used to.
The stylus isn't great. The $99 stylus Google made for the Pixelbook works fine enough, though it's quite thick—it feels more like holding a marker to write with than a pen. But regardless, I'm still not sure there's much use for writing on a computer screen, unless you're an artist, or like drawing circles around things.
No caps lock key. This one confused me greatly: The spot where the caps lock key should live on the Pixelbook's keyboard has been filled by a button that brings up a quick-search menu to find apps on the device, or search the web.  It's a useful button, but SOMETIMES I LIKE WRITING LIKE THIS, OK?
Should you get one?
Much like the Pixel 2 phones, there was nothing particularly egregious about the Pixelbook. It would make a fine present to someone heading off to college, or as a replacement for an old laptop to have around the living room for web browsing and answering emails.
But for the price, it seems a tough sell over other devices. If you love Google's apps and services and you don't see yourself needing much else in your life, then perhaps this is the device for you. But you could still get a far cheaper Chromebook that does 90% of what the Pixelbook does. For the price, I'd probably choose an iPad Pro with a keyboard cover and Pencil stylus instead. It's far lighter, and just about as useful.
It's not clear who the Pixelbook is for, or what it's competing against. It's far costlier than any other Chromebook and its competitors' tablets with keyboards, and less effective than just a regular computer. This is probably the nicest Chromebook you can buy, but I'm not sure that's a particularly useful thing to have created.