I recognized Ali Haakim, the 55-year-old black man in my Royal Oak office, as one of the best professional Detroit boxers since Joe Louis. As the Michigan Heavyweight Champion, he'd ranked eighth in the world. Now he was sick. I wanted to help.
"I've heard of you. You were famous," I said.
"Back in the day," he told me.
"I fought in the Detroit Golden Gloves tournament in 1968," I told him.
"Right after the riots? Why?" he asked.
"I wanted to understand why the races couldn't get along." I said. "Muhammad Ali was my hero."
"Boxing can cure hate," he said. "Were you any good?"
"Not bad for a white guy," I admitted.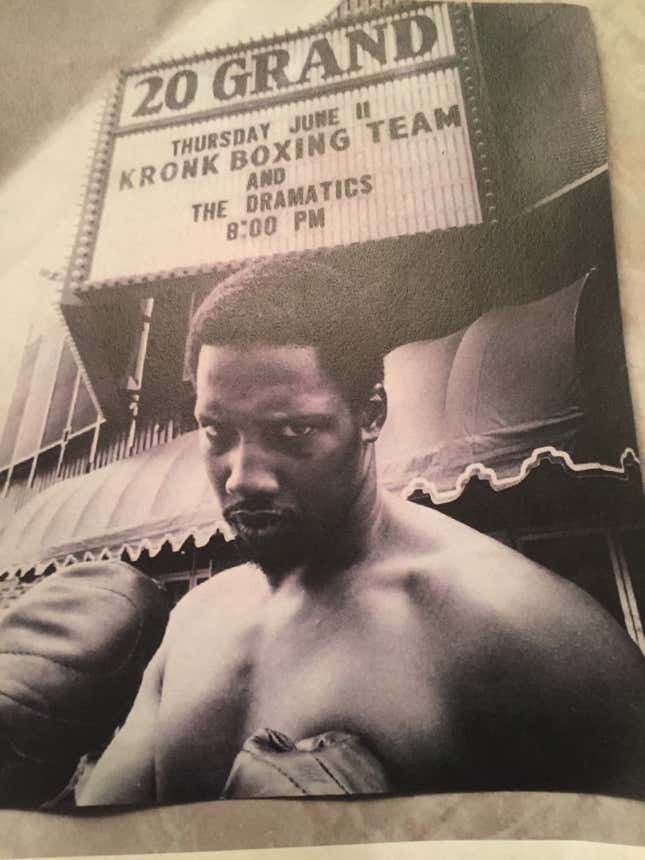 (Ali Haakim/Credit: Olaf Kroneman)
When I was in high school, boxing in downtown Detroit for four years made me more open-minded. I tried new exercises like jumping rope. It taught me how to be  disciplined, to make split second decisions in the ring and not second guess myself—all traits that helped me through medical school. Now, as a 65-year-old white doctor, I wanted common ground with Ali. I told him that his kidneys were failing and soon he'd need dialysis. He didn't flinch, accepting the verdict as if he'd just lost to a hometown decision.
"Doc, I don't want to go on the machine. What about a new kidney?"
"It's difficult to go directly to kidney transplant," I said. "There's a long waiting list."
"I've seen too many brothers decline on dialysis," he said.
I nodded. "Black people have four times higher incidence of kidney failure than Caucasians because of genetics and the environment," I said. More than half of my patients were black or Latino. I explained another option. If he was willing to risk a kidney that wasn't the best quality, it might help him avoid dialysis. "But it's a risk."
"Every time I stepped into the ring I took a risk. I fought Ernie Shavers. He could kill you with either hand. This is no different," he said. "Doc what would you do?"
"I'd rather take a chance with an extended donor kidney than fight Ernie Shavers."
"You're not experimenting?" he asked.
I flashed to the Tuskegee syphilis study that ended in 1973, the year I entered medical school. The first physician who protested was Dr. Irwin Schatz of Detroit's Henry Ford Hospital, who complained to the Public Health Service, who never replied.
"No, this is not an experiment," I reassured.
"I trust you."
Three months later Ali received a kidney that worked. When he returned to my clinic, he was fit. He'd gained twenty pounds, his health robust. "Doc, I never knew how bad I felt," he said. "Funny the kidney was from a white man. We're all the same on the inside, where you can't see color."
"We have interchangeable parts. Now we need interchangeable hearts," I said.
"I've been blessed. I'm going to give back," he said.  "I'll open a gym. Get the kids off the street. Teach them to box. Girls too."
I offered to donate money but he really needed  a doctor for tournaments.
"A doctor as in me?"  I was uneasy.
My Christian-Danish background and patient advocacy often got me in trouble. What if someone was hurt during a tournament? I'd taken an oath to do no harm. Was it too dangerous? Amateur boxing ranked  the twenty-third most dangerous contact sport. Football and hockey were more dangerous. Soccer, basketball, lacrosse, track and field, wrestling, competitive swimming and diving had more reported injuries.
Still I took out a liability policy and worried about venturing into black neighborhoods that might not welcome me. Then I realized Ali took a risk in my operating room with a marginal kidney. He trusted me in a medical world  that many minorities viewed with suspicion. I'd trust him in his world. At the tournament, the audience stood and sang the Star Spangled Banner, a cappella. In the bout, two ten-year-old boys boxed for one minute with a one minute rest in between. Their form was excellent, their punches made safe by the equipment, more like fencing. When it was over the crowd applauded and the boxers bowed. The headgear was removed, revealing proud smiles.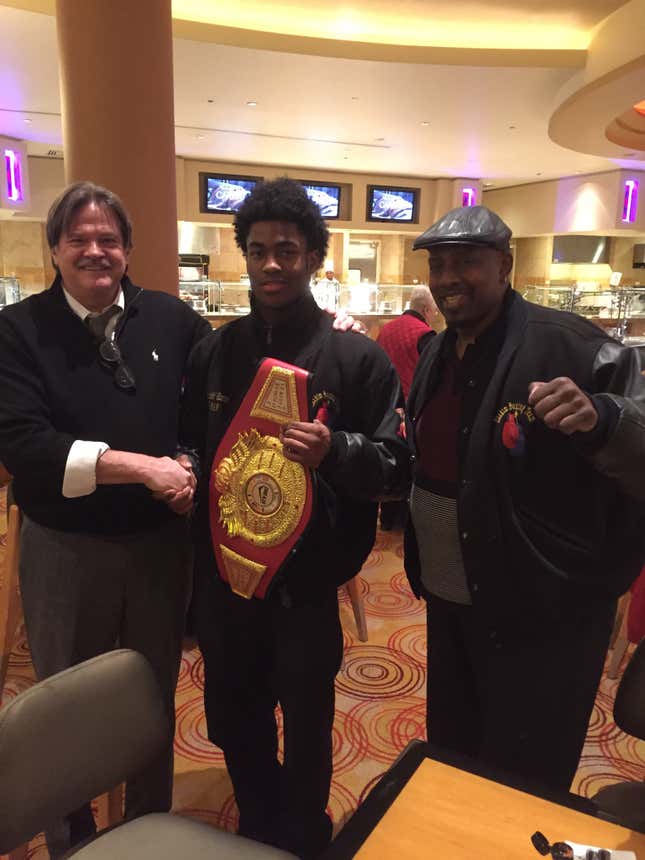 (Credit: Olaf Kroneman)
I examined the boxers. They were  fine. With older fighters, when a blow landed, the fight was stopped, the fighter examined. Vigilant people at ringside could stop a match. At one point when I stopped a match, the referee told me "No kid ever died of a bloody nose," implying I was being too vigilant so I backed off a bit. Women in the ring had headgear with a face-guard,  large gloves, and technique. A predator would have his hands full if he tried messing with them. With a daughter and three granddaughters, I'd been opposed to women boxing. No longer.
In the last three years, I've taken orders from mostly black and Latino coaches, trainers and referees who were very fair and diligent committed to their sportsmanship. It was the kind of loyalty and collegiality I'd found lacking in my predominately white male medical establishment, where I'd witnessed more cheap shots out of the ring.
When Ali thanked me and offered a stipend, I told him to give it to his gym, Haakim's Boxing and Achievement Academy, to help the kids out. Recently, one of his young boxers won the World Boxing Federation Middleweight boxing title and is in line for the world WBO title. Other boxers are ducking him because he's so good. His name is Winfred Harris Jr., aka "The Hot Boy."
Ali gave me a gift one day: a navy blue beret. "This is the same kind that Jack Johnson wore in 1909," he said. "You'll be fly for a white guy." I wasn't. But I still volunteer as a fight doctor in Detroit, which makes me a better person and a better kidney doctor.