The Chongyang Festival—also known as Double Ninth Festival—takes place on the ninth day of the ninth month of the lunar calendar, and this year falls on Oct. 28. It's a time when families gather to hike up hills and look at chrysanthemums—recreational activities that evolved from legends about dodging misfortune that date back 2,000 years, to the Eastern Han period.
The festival is celebrated in many parts of Asia—in Hong Kong it's known as Cheung Yeung, while Japan's version is known as Choyo, and the double-nine date is marked according to the Gregorian calendar, meaning it falls on Sept. 9.
The origins
There are two major origin stories for the Chongyang Festival, both of them are centered around a common theme—how to avoid disaster and prolong your life with proper preparation.
One story is about a young man named Huan Jing living in an area near the Ru River, located in today's Chinese central province of Henan. Huan's village suffers from bouts of plague brought by a demon that lives in the water. Having lost his parents and survived the plague himself, Huan decided to seek help from a sage who is immortal. One day the sage tells Huan that the monster is about to return on the ninth day of the ninth month to spread disease, and explains what the young man must do to ward off an epidemic. Huan hurries back to the village and tells everyone to climb up a nearby mountain, bringing dogwood leaves and chrysanthemum wine with them. As the monster emerges from the water, the scent of the plants and wine makes it dizzy—which is when Huan kills it with a sword, and stops the plague.
In another story (pg.46), an old man approaches a farmer and tells him that he should move to a barren highland to avoid a disaster falling on the ninth day of the ninth month. "The higher the better," the old man warns. So the farmer climbs to the peak of a nearby mountain with his family when the day arrives. Looking down the mountain, they see their house in flames. The fire soon spreads to the mountain but the family is spared because the peak is covered with rocks.
Basically, when in doubt, get to higher ground.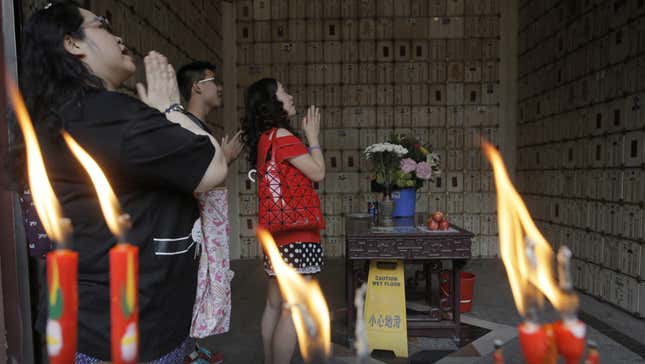 How it's celebrated
Chongyang is made up of two Chinese characters 重阳 — chong means double, and yang means masculine energy. According to belief, risks are heightened at this time because there is too much masculine energy at loose in the world. However, nine, which is pronounced as jiu, is a homonym of 久, the Chinese character that represents a long period of time. Drawing from these meanings and the legends, the festival has become a time when people wish for longevity and a safe-and-sound life.
Going climbing is one of the most popular ways to celebrate the festival. Apart from warding off river demons and avoiding disaster, ascending physically also symbolizes climbing to a higher position, and having a longer life, especially for elderly people. Last year, almost 10,000 people climbed a specific mountain in China's eastern province Zhejiang. The festival is a time to show special care to older people, or to remember ancestors. In 1989, China's government named the festival China's Senior Day (link in Chinese).
It's also common to spend time with flowers believed to have power against malign forces. During China's Tang Dynasty, more than 1,000 years ago, rulers made the festival a day off for common people, who marked it by wearing dogwood because they believed the plant could prevent disease and disasters. Another popular festive plant is the yellow-and-white-hued chrysanthemum that blooms around this time, and is also believed to have healthful properties.
Tao Yuanming, a reclusive poet famous for his writings about the flower over 1,500 years ago, is said to have inspired the tradition of drinking chrysanthemum wine and eating chrysanthemum cakes. Today, a common food at this festival is Chongyang cake, a flower-shaped dessert made with rice flour and fillings such as preserved apples.