Elon Musk's space company will fly its sixteenth rocket to orbit this year, blasting through its previous record and establishing itself as the busiest launch company on earth.
A  SpaceX Falcon 9 rocket is expected to launch a satellite for KT SAT during a launch window that opens at 3:34 p.m. EST today. The South Korean satellite operator that will use the orbiting platform to send television to homes across Asia, while also providing bandwidth to internet and mobile phone companies. After the launch, SpaceX will attempt to land the Falcon 9 booster stage on a floating platform in the Atlantic, so it can be reused in a future flight.
You can watch a livestream of all the high-precision machinery at work here:
If successful, the launch will set a company record for most launches in a calendar year. It will also handily outstrip the record of 14 launches set by United Launch Alliance (ULA), the joint venture between Boeing and Lockheed Martin that dominated the US launch market before SpaceX arrived on the scene with significantly cheaper rockets. SpaceX is even on pace to put more rockets into orbit than the Russian or Chinese space programs.
Arianespace, the European rocket champion, may also out-launch ULA this year.
Back in July, SpaceX released its own market research showing just launches for private companies and excluding government contracts. The data shows how dramatically the company has changed the way humans get stuff off their planet and into space.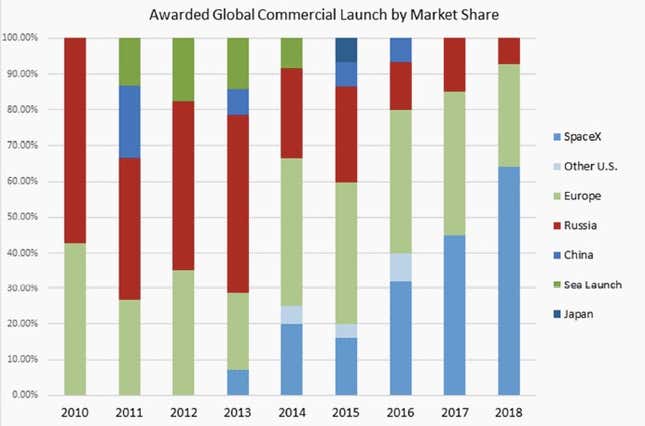 SpaceX has launched three previously-used Falcon 9 rocket boosters this year, and promises to bring them into more regular use in the years ahead, which could allow the company to accelerate its activity—as long as no new problems emerge with the company's approach to quickly refreshing them before flight. Iridium, a major satellite communications company, just moved two scheduled launches with SpaceX to "flight-proven" boosters in order to get its assets into space faster. By the end of the year, SpaceX may launch as many as nineteen missions.
The company had originally hoped to hit this cadence last year, but accidents grounded their vehicle in 2015 and 2016 and left the company losing hundreds of millions of dollars. Still, thanks to a mega-investment from Google and deposits by its customers, lots of cash allowed the firm to persevere. Most recently, the private firm was valued by its investors at more than $20 billion.
That valuation doesn't just depend on cheap, reusable rockets. SpaceX is developing lots of technology. It wants to demonstrate a reusable heavy rocket this year that would be able to lift three times as much to orbit as the Falcon 9, but delays have plagued the program. The company's engineers are also developing a capsule to fly astronauts for NASA, a satellite constellation to provide global internet access, and an enormous, next-generation rocket capable of visiting astronomical bodies throughout the solar system.
That ambitious slate of activities is underwritten by the success of the Falcon 9 vehicle—both because it is the primary source of revenue for SpaceX, and because the innovation underlying its low cost and high performance provides credibility for Musk's many promises.