Amazon's request for proposal for HQ2, its second North American headquarters, left a lot to the imagination.
The company set some basic preferences—a metro area with more than 1 million people, 45 minutes from an international airport, a "business-friendly" environment—but it didn't rule anyone out. By Oct. 19, the deadline for submissions, the company had received 238 bids to host its new headquarters. Amazon is currently evaluating the proposals, and has said it will make a decision sometime next year.
Quartz combed through media reports and contacted local and regional officials around North America to confirm as many of those bids as possible. We found nearly 200, with applicants ranging from major metropolitan areas to three businesswomen in Anchorage, Alaska.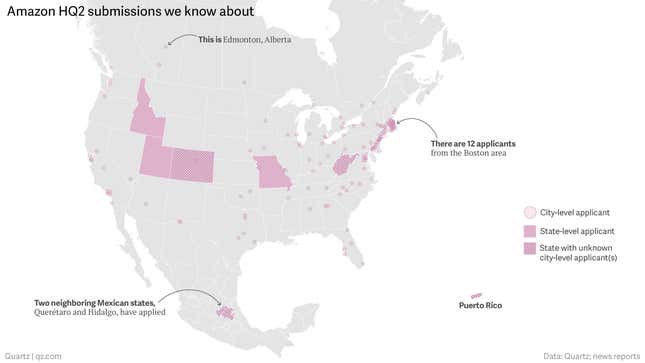 Our list provides an interesting look at how the cities, states, and provinces of North America competed for the most sought-after corporate campus in recent memory.
The state takes charge
One strategy was for the state to oversee submissions of HQ2 applications.
Colorado, for example, submitted eight sites to Amazon in a bid coordinated by the Metro Denver Economic Development Coalition (MDEDC). The state worked with MDEDC to solicit site proposals from local jurisdictions, a spokesman for Denver's office of economic development told Quartz. The coalition isn't disclosing the eight sites it went with, though Quartz confirmed Denver is one of them.
Three states—Idaho, Missouri, and Utah—submitted state-wide bids. In Missouri's case, the statewide entry supplemented city-level proposals from Kansas City and St. Louis. "Imagine the potential of combining the two major metropolitan areas," Missouri's chief operating officer told a local radio station. "That's the kind of big bold thinking we think will appeal to Amazon."
One advantage of the state taking charge of HQ2 submissions was that it was more likely to comply with Amazon's request that states, provinces, metro areas, and cities coordinate to submit one proposal per metropolitan statistical area (MSA), a US Census designation for an urban geographical region.
Colorado, for example, has seven MSAs in the state, including the Denver area, Colorado Springs, and Grand Junction. Idaho has six. In Missouri, St. Louis and Kansas City each inhabit a different MSA.
The state endorses local jurisdictions
Other states didn't submit their own unique bids, but did send proposals in favor of local jurisdictions. This approach was particularly prevalent in the densely populated US Northeast, where states didn't block towns and cities from applying, but only gave an official blessing to certain submissions.
Take Connecticut, where Quartz identified five separate bids for Amazon's new headquarters: Bridgeport/New Haven, Danbury, Greater Stamford, Greater Hartford, and Waterbury. In a 41-page pdf marked "confidential" and shared online, Connecticut governor Dannel Malloy threw his weight behind the Greater Stamford and Greater Hartford submissions. "Both meet the outlined requirements," he wrote in a letter. "We believe each will offer Amazon a vibrant urban setting nestled among progressive New England towns."
New York state backed four regional bids: Buffalo/Rochester, Syracuse/Utica/Mohawk Valley, the Albany metro area, and New York City/Long Island/the mid-Hudson. But those weren't the only applications that came out of the state. Mount Vernon submitted a proposal, as did New Rochelle, and Westchester County.
Massachusetts, meanwhile, sent a presentation to Amazon that included all the town- and city-level submissions the state had been made aware of. The full state proposal, available online, touts the 125 colleges and universities in Massachusetts and includes letters of support from other companies headquartered there, such as National Grid and TripAdvisor. It proposes 26 different cities as sites, each of which also submitted directly to Amazon.
Free-for-all!
The most common strategy for going after Amazon was no particular strategy at all.
That led to some delightfully weird submissions. In Stonecrest, Georgia, the city council voted 4-2 to de-annex 345 acres of land and form the city of Amazon. Gary, Indiana, took out a full-page ad addressed to Amazon CEO Jeff Bezos in the business section of the New York Times. Tucson, Arizona, sent Bezos a giant cactus (Amazon returned it).
Other places sent in proposals despite not meeting the most basic criteria, like a metro area of at least 1 million people. The most notable of those came from Milam County, Texas, a rural part of the state that, with an estimated population of 24,871, isn't even included in a metropolitan statistical area. (Dave Barkemeyer, the county judge, reportedly said he hopes the county "will offer unique advantages among the many crowded, mostly urban sites" being floated to Amazon.)
Then there were privately organized bids, like the one from three businesswomen in Anchorage, Alaska. "There are other areas in the country that you can say are more attractive to Amazon, but we have a company that wants to invest," Alaska Chamber president Curtis Thayer, who wrote a letter recommending Anchorage at the request one of the businesswomen, told the Alaska Dispatch News, "We should try."
Dave Gershgorn, Mike Murphy, Karen Hao, and Hanna Kozlowska contributed reporting.