It was still dark out when I left to pick up my iPhone.
When I got off the subway at Apple's very under-construction flagship store on Fifth Avenue in New York, I couldn't see any lines. I thought perhaps Apple had overestimated just how many people would be willing to part with at least $1,000 for a slightly nicer smartphone than the one it released just over a month ago. Then I turned the corner.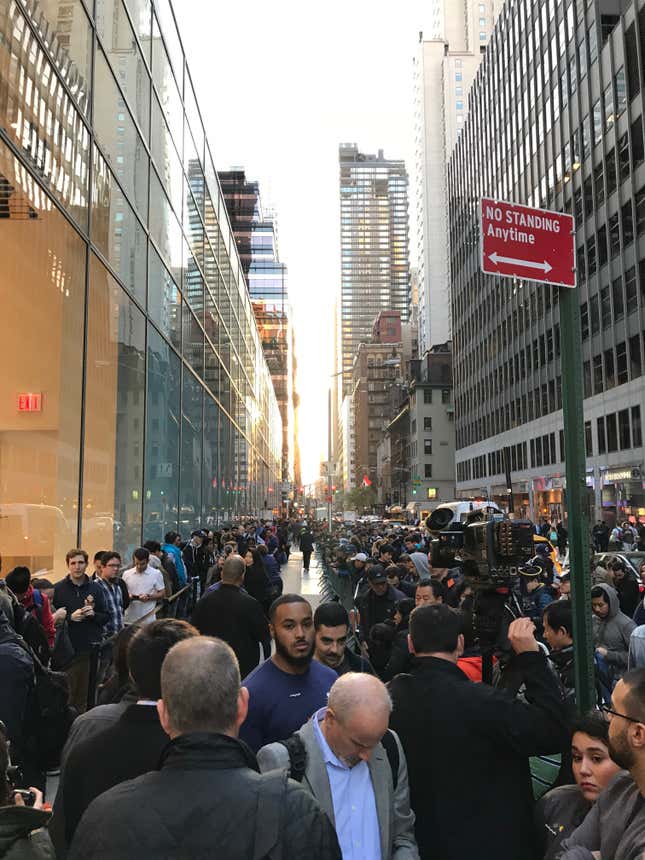 The line for the new phone spilled onto one side of the sidewalk and part of the street around the corner. By 7:40 am—20 minutes before the first person would be able to enter the store and pick up their new iPhone X—there were hundreds of people waiting, many of whom had not taken Apple's advice to preorder the device for pick up on launch day, choosing instead to camp out and see if they would be lucky enough to nab one without a reservation. Some had camped for days.
A decade after we first saw crowds of people cheering on excited consumers picking up their very first iPhones, it's amazing how little has changed. Despite the iPhone X costing nearly $400 more than the average price of an iPhone sold last quarter, people turned out in droves in New York and across the world today (Nov. 3). Enthusiastic Apple employees cheered for us as we walked up the ramp into the store, and then again as we entered the store. Three different employees reached out to shake my hand, congratulating me on my purchase. The store clerk who processed my order was upbeat and friendly, and although I'd been ferried through multiple lines outside due to some confusion about where the queues for preorders started and ended, I was in and out of the store in under an hour.
People in the preorder line (the first in line in the first possible slot for buying the X) told me they'd bought every iPhone Apple released over the last few years. One person told me they'd picked up every single iPhone since the first one, and had each new case Apple made for the X in his bag ready to test out. He picked up a 12.9-inch iPad Pro while we waited, and told me he might get one of them as well, to complement the 9.7-inch one he already had.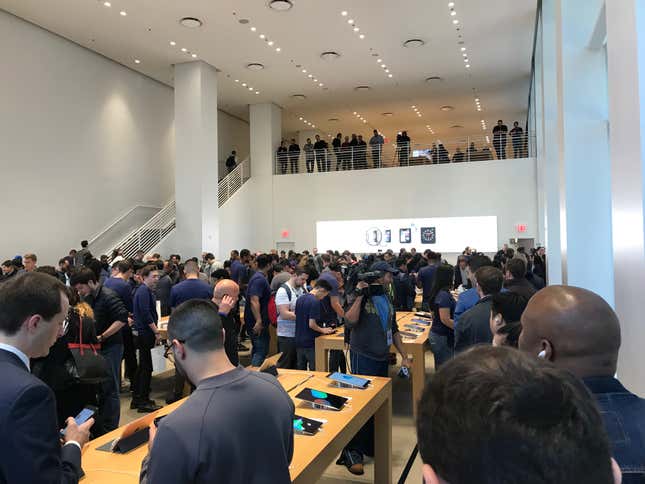 Blue-shirted Apple employees milled around the makeshift store, ensuring everyone's order was being fulfilled as quickly as possible. Members of the press, and more senior Apple employees looked down on the organized chaos from above. New York City police officers and private security guards hired by Apple guarded the doors and the lines outside. The police had put up bollards. Very few people seemed to be touching the iPhone 8 displays.
As I walked out, congratulated by one final Apple employee, I made my way around the construction site of the forthcoming remodeled cube store. I hadn't realized that Apple was completely rebuilding from scratch, but contractors were laying concrete amid exposed steel beams a floor below me.
Watching the new store being built after witnessing the throngs of humans on line today, I was reminded of the company's plans, hinted at by CEO Tim Cook and others in recent years. I realized that much of what had seemed like hyperbole in the breathless first reviews of the iPhone X might actually be true—that it was the groundwork that Apple was laying for its future. Cook has said so himself multiple times. Although I haven't had much time with the phone yet, it's clear that Apple believes this newest release is the start of something grander than anything it's done to date.
Just look at the seeds that Apple has recently sown: Apple's market capitalization is closing in on $900 billion after yesterday's strong earnings report. Seeing today's lines, it's easy to grasp why the company is forecasting that its forthcoming holiday quarter will be its biggest ever. Apple could well be a trillion-dollar company in three months' time. It's just unveiled a cathedralic new headquarters that's meant to house the company for decades to come. And it's spending tens of billions of dollars on research and development each year, working on the brains for future cars, and possibly the cars themselves, as well as glasses, and medical devices.
For all of today's concerns about what Apple still has to offer in terms of innovations without Steve Jobs at the helm, it's worth remembering just how heavily Apple has invested beyond these tiny black rectangles—and how powerful its influence remains for the countless fans willing to sleep outside for the sheer bragging rights of being the first person in their city to hold one.