Much like with Hollywood, Apple's sequels are starting to feel more and more derivative.
At today's (Sept. 7) press event in San Francisco, Apple unveiled the Apple Watch and the iPhone 6. No, that's not right. The company actually showed off its latest and greatest devices, the iPhone 7 and Apple Watch Series 2. But from the outside, there's not too much separating this year's products from the ones Apple introduced in 2014.
After Apple's last major product event in March, I called the company boring. Then, the company's biggest news was it launched smaller phones and tablets, and today's event was really not that much different. Its two biggest products received minor facelifts and while their innards may be far more powerful than previous models, it will be difficult for the average consumer walking into an Apple Store, seeing old and new side by side, to really see the difference.
No one expected this event to be a blockbuster—many believe next September's event a year from now to be a real reset for the company. But there wasn't much on display to show that Apple has anything up its sleeve to turn around falling iPhone sales and quarterly revenue. Boring does not drive sales in consumer technology.
Apple showed off the products it hopes we will be buying during this year's holiday season; it's difficult to see what is going to inspire the record level of sales that Apple has put up in past holiday quarters. Apple used to make one phone, a few laptops and desktops, and iPods. Its model lines are muddied now, with five Apple Watch variations, five phones, and five iPads—and that's before you get into the myriad colors and storage size options they all come in. On top of that, it's getting harder to tell one year's products from the year before or after.
During the two-hour-long event, Apple revamped the Apple Watch, which is now waterproof. But it will have the same dimensions, battery life and screen resolution of the last model. Oh, but now it's made of ceramic for some reason.
Similarly, the iPhone 7 and 7 Plus look ostensibly the same as the versions before them, barring a few lines on the back of the phones, and the second camera on the Plus model. They come in a couple new colors, including one that is apparently very easy to scratch, and will be able to take amazing photos. They're also waterproof.
But these updates aren't a step-change from the model before. They feel iterative, much like the internal updates that Apple has tended to make to its iPhone "S" models, which are aesthetically unchanged from the phones released the year before. But this is not an "S" model—this supposed to be a Big New Thing, and yet it didn't feel like something that people are going to rush out and spend at least $649 on, unless their phone contracts are due for renewal.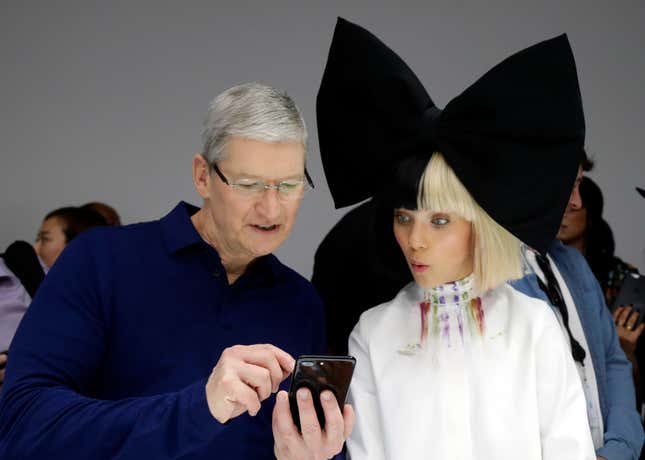 Over 10 minutes of today's presentation was dedicated to a two-song set by the artist Sia. There was no "one more thing" that Apple has used to break out its big new products over the years—just a long musical exit by a famous pop singer with really big hair.
The newest thing Apple showed off was a set of $159 wireless earbuds called AirPods that the company either introduced as the truest realization of the design aesthetic the company has been striving toward since 1998, or because it killed the headphone jack as a way of charging users more money to carry out their regular daily activity of listening to music. (It was also revealed that the company will be charging iPhone owners $9 for replacement headphone adapters should they lose those the iPhone will ship with.)
And, of course, everything that Apple announced had pretty categorically leaked over the last few months. No surprises. Ok, maybe the appearance of Nintendo and the new Super Mario game it will be bringing to iOS—which, actually, is just a rehash of other already popular iPhone games.
Apple mentioned in passing that it had expanded the iPhone Upgrade Program (where customers can lease a phone on a two-year contract, and receive a new model each year) to two new markets, China and the UK. Combine this with the incrementality of today's new devices, and you get the sense the company is biding its time until it's ready to show off something bigger, and wants its customers to do so as well. Locking them into two-year contracts will help, but whether the customers will want to stick around beyond that, only time will tell.