Bitcoin's price has risen by more than 600% this year, routinely setting new all-time highs along the way. But timing is everything: bitcoin has also dropped by  double-digit percentages at times this year, in what some economists would consider a financial crisis if it happened to the value of a sovereign currency.
Indeed, if you bought bitcoin at the start of the year, you may have swiftly regretted it: Within 10 days, the cryptocurrency had lost 20% of its value. A better decision, at that point, would have been an index fund tracking the S&P 500, Apple stock, or even gold—these assets started the year up and have continued to rise since.
Bitcoin eventually caught up, and then some.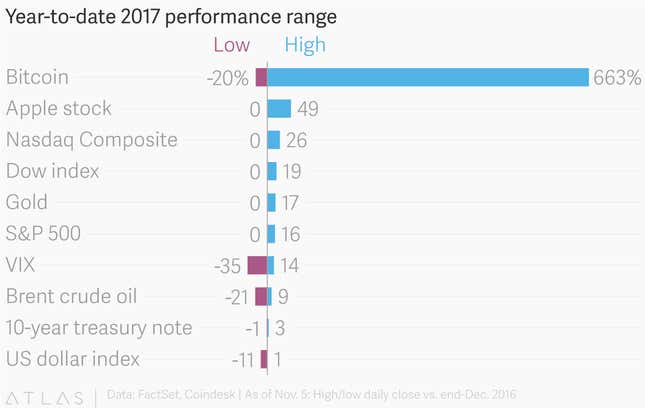 Bitcoin's rollercoaster behavior could be a problem as more people—from Wall Street hedge funds to ordinary savers—consider adding bitcoin to their portfolios. For context, US stocks dropped by around 40% in 2008 during the global financial crisis, a decline that deeply damaged investor confidence and made it harder for savers to retire. That event was considered a once-in-a-century crash. For bitcoin, double-digit percentage drops are much more commonplace.
Bitcoin's price volatility could also pose a problem for Wall Street. CME Group is planning to launch futures contracts tied to bitcoin, which would make it easier for institutional investors to trade the cryptoasset. The world's largest futures exchange puts limits on price changes, which seem likely to get triggered regularly by an asset as wild as bitcoin. When an exchange is forced to stop trading for a period of time due to volatility, it's not good for confidence. The exchange may also require traders to provide higher levels of collateral to make sure they're equipped to cover losses, dampening enthusiasm for broader adoption of the asset.
Everybody in the market thinks this is an "accident waiting to happen," said Peter Dixon, chief UK economist at German bank Commerzbank, in a Bloomberg radio interview.
Maybe bitcoin or some other cryptoasset will indeed become a widely used means of payment or a sort of digital gold, as its most enthusiastic believers hope. In the meantime, its immense price rally has masked immense risks for buyers looking to get in on the action.