These are not the figures you're looking for. Move along.
Disney just posted its fourth-quarter earnings, and they were rough. The company missed Wall Street's expectations, posting revenue of $12.7 billion, below the $13.15 billion analysts had estimated. Initially, Disney's stock price dropped from its close of $102 to roughly $99 in after-hours trading on the news.
But then CEO Bob Iger, presumably with a deft flick of wrist that would make Alec Guinness jealous, convinced the market that things were fine. He effectively said, "Do not worry about these numbers, instead look at this" in announcing there will be an entirely new Star Wars trilogy after Disney finishes the one it's currently working on. Oh, and a live-action television show.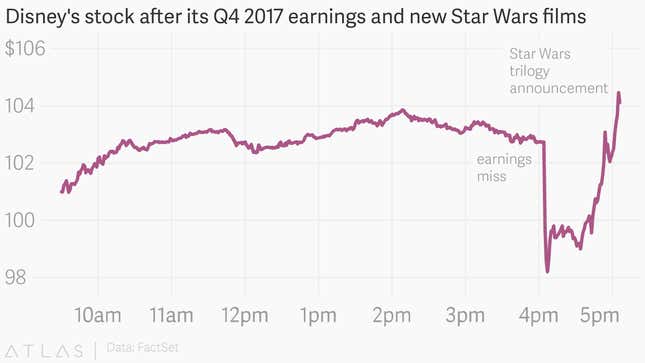 It seems that the market was placated. After the news that we will not be running out of Star Wars content—or fresh merchandise—to consume, Disney's stock popped back up, hitting above its closing price at about $104, at the time of publishing.