The European economy has experienced an impressive turnaround in recent years. From a position so weak that some countries needed international bailouts and central banks launched unprecedented monetary stimulus to stave off broader turmoil, the region is now considered the "engine of global trade" and economic growth by the IMF.
In the IMF's latest review of the region, published today, the group says Europe's recovery is so strong it's spilling out into the rest of the world. The European economy is forecast to grow 2.4% this year and 2.1% next year, after GDP increased 1.7% in 2016. For 2017 and 2018, this represents an upward revision to GDP of 0.5 and 0.2 percentage points, respectively, from forecasts earlier this year. Across the euro zone, economic growth hasn't been this uniform in two decades, the IMF notes.
An improved global economic outlook is mostly thanks to Europe's recovery, the IMF says. Last year, world trade slowed down. This year, the WTO expects it to increase again, but protectionist policy approaches (particularly in the US) makes the organization extremely uncertain how much improvement is likely. Europe is the unexpected bright spot propelling the global economy ahead in this regard.
"The strengthening domestic-demand-driven recovery in Europe has boosted global trade," the IMF says. "With Europe's contribution to the growth of global merchandise imports in 2016-17 similar to that of China and the United States combined."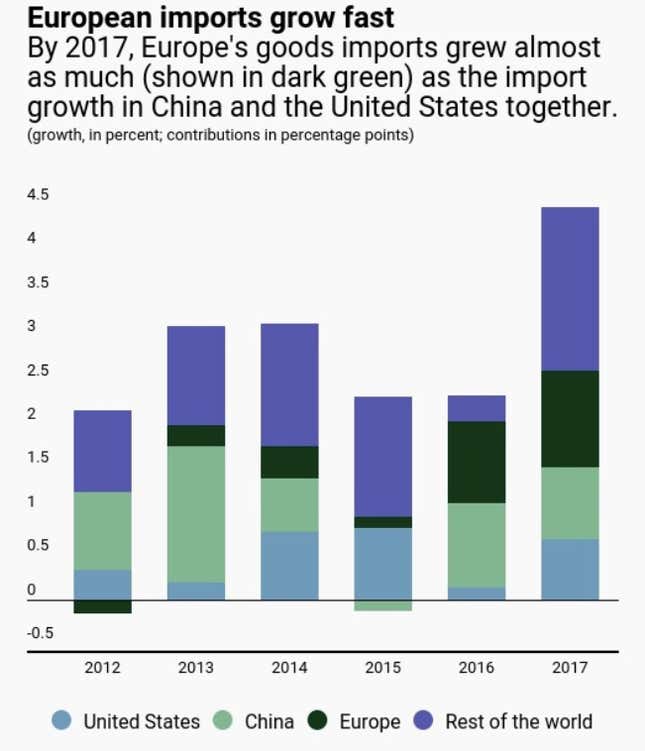 The IMF's positive assessment comes after the European Commission also predicted that the region was in for a strong year. The euro zone is forecast to grow at its fastest pace in a decade, with GDP increasing by 2.2% this year. That's a big improvement from an earlier forecast of 1.7% six months ago.
All the good news has encouraged JPMorgan Asset Management to upgrade its forecast for the long-term prospects of the euro zone economy for the first time in a decade, the firm said. It now expects 1.5% "trend growth" over the next 10-15 years, up from 1.25% before.
"This is no flash in the pan," wrote John Bilton, global head of multi-asset strategy at the asset manager. "Eurozone GDP growth has outpaced U.S. growth by a couple of tenths of a percent over the last two years and roughly equalled it over the last three."