The mass gathering of nearly 60,000 far-right demonstrators in Warsaw over the weekend hijacked traditional celebrations of Poland's Independence Day with chants and signs using racist, white-supremacist slogans and iconography.
Knowing what the marchers support, the images from news agencies were chilling, particularly ones taken from a high perch that show crowds filling the frame, flares illuminating them in a red glow in the twilight. From above, a lot of the context is lost, and it's hard to tell the makeup of the crowd or read their signs. The rallyers look like one large, unstoppable mass.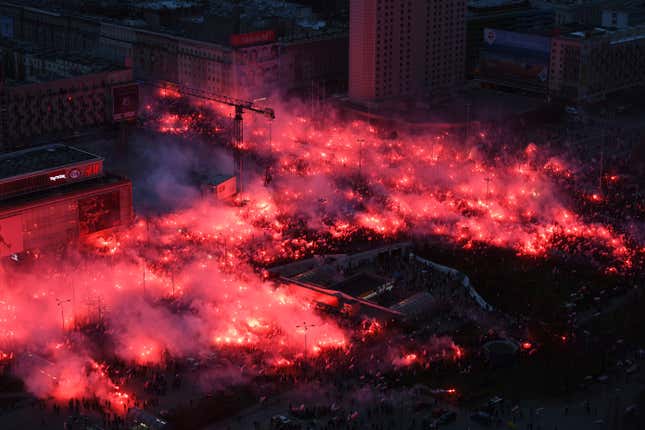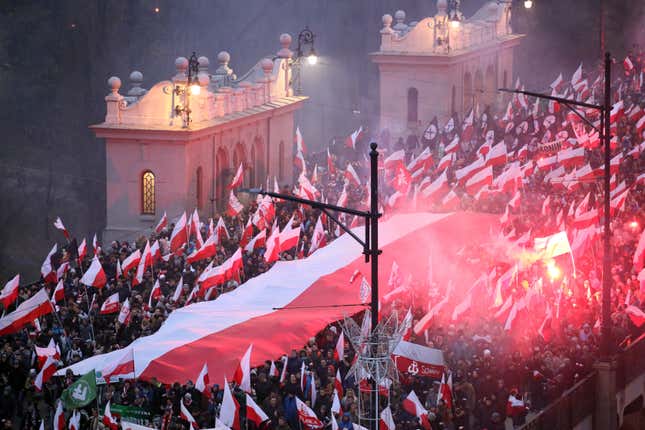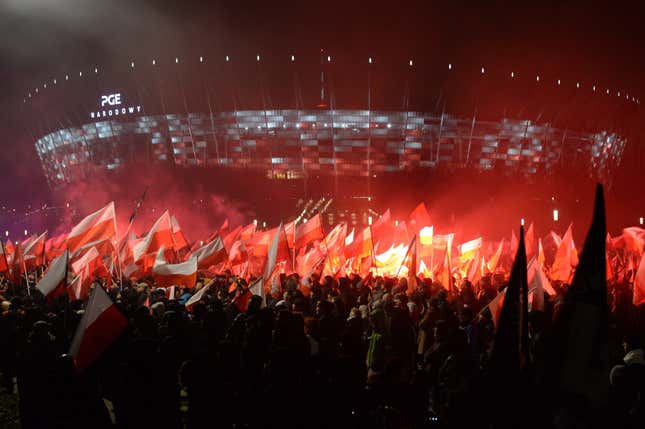 Without full knowledge of what the marchers represent, you could be forgiven for if momentarily mistaking these photos for images of grassroots pro-democracy revolutions of years past, like those in Ukraine or Egypt, and not a gathering of far-right, Islamophobic, anti-Semitic hate groups.
Perhaps that was the intention. The images mirror those of the street protests in Ukraine in 2014 that helped push president Viktor Yanukovych from power. Visually aligning their demonstrations with previous successful protest movements gives the Polish nationalists the chance to capitalize on viewers sensing an inevitability about the movement's progress.
This isn't the first time the Polish far right has used the national holiday as a springboard. Deutsche Welle reported that these protests have become an annual occurrence. Last year's was in fact better attended, totaling around 75,000 people. Regardless of a slightly more modest turnout compared to last year's, the images show a movement emboldened, as nationalist movements have been across the world, stepping out more confidently.