For many people living in war-torn or remote areas, medical care is sometimes only available from Doctors Without Borders/Médecins Sans Frontières (MSF). The mission of Doctors Without Borders is to help people around the world where the need is greatest. This includes delivering emergency medical aid to people affected by conflict, epidemics, disaster, or who lack access to basic medical care. Through its swift mobilization of resources and personnel, Doctors Without Borders is able to enter underserved regions to provide crucial medical care to patients who wouldn't survive without it. With over four decades of experience conducting field missions, Doctors Without Borders has focused on improving and innovating its mobile medical facilities. It is these facilities that are instrumental in helping the organization's doctors respond rapidly. These are the stories of three mobile facilities that have helped doctors save lives around the world.
Treating the wounds of war 
The Mobile Unit Surgical Trailer (MUST) was first constructed on the battlefields of Iraq. The idea of a mobile surgical facility had been discussed internally at Doctors Without Borders for years, but it wasn't until the 2016 Battle of Mosul that the need for the technology was made clear. The military campaign's toll on the civilian population necessitated the creation of a surgical facility that could move at the pace of war. Doctors Without Borders's engineers and logisticians began expeditiously building the project during the campaign, designing a facility comprised of five trailers containing an operating theater, a recovery room, an intensive care unit, a pharmacy for medical supplies, and a storeroom.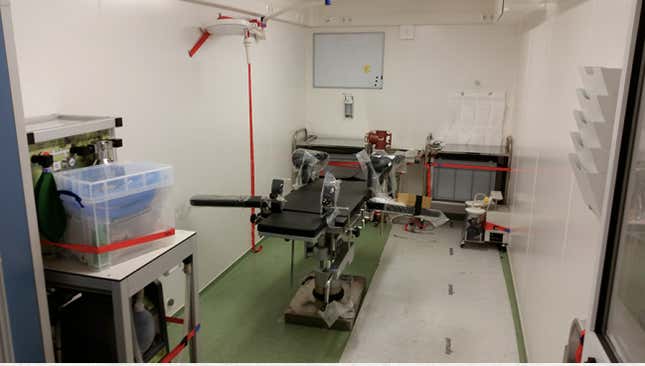 The MUST was deployed to a small village south of Mosul to receive its first influx of patients on February 16, 2017, during a brief lull in the fighting. The facility is far more sterile than a tent, and optimally designed for urgent procedures, with elbow room for a full surgical staff and refrigerated containers for medication. The unit is designed to be mobile, and uses generators and water tanks to remain operational for 10 days, or up to 100 surgeries. In just its first month, surgeons working in the MUST operated on 190 people with life-threatening injuries, saving dozens of lives that would have certainly been lost.
Beating the heat
In the refugee camps of Doro, South Sudan, long lines of families patiently wait in sweltering heat to see a doctor. Doctors Without Borders has long operated in Doro, but the difficult conditions make providing medical care problematic. Temperatures often reach 122 degrees Fahrenheit, making the tents and structures of the makeshift hospitals too hot to comfortably house patients. The lack of roads and local supplies, and a tenuous security situation, mean that building better permanent facilities isn't feasible. Since an unexpected disease outbreak or armed conflict in the area could send a rush of patients to an inadequately prepared facility, better hospitals are necessary.
A solution came in March 2016, when Doctors Without Borders construction teams began work on a modular structure. Now fully functional, the MODUL(H)O—a modular hospital—can be installed by a handful of people without machinery. It includes ventilation and surfaces that can be cleaned easily, and is the perfect solution for Doro. The MODUL(H)O facility in Doro took 12 weeks to construct. Since opening its doors, it has provided quality medical care to the elderly and babies alike.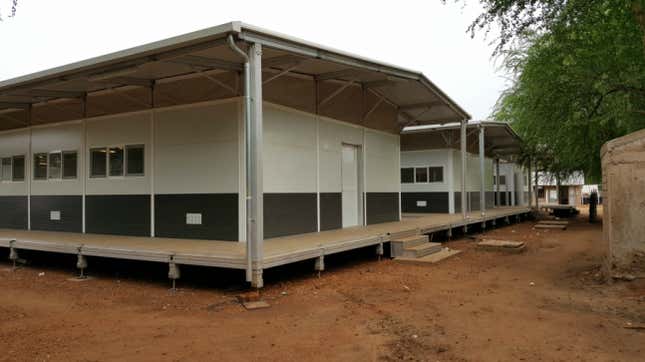 Plans for the MODUL(H)O go beyond Doro. It was created to counteract a range of environmental challenges, such as bad lighting, termites, leaks, and infection control issues, as well as situational obstacles like security and extreme weather. As such, the MODUL(H)O has the potential to treat patients in a range of regions and living conditions. Since the MODUL(H)O can have a lifespan of 30 years, it could provide viable, semi-permanent medical facilities in areas where none exist. Yet, Doro was an important learning opportunity, and Doctors Without Borders hopes to create an improved version of the MODUL(H)O to construct elsewhere.
Surviving the storm
In November, 2013, the Philippines was devastated by Typhoon Haiyan. Tacloban, a city in the central Philippines, was obliterated by the storm, and thousands of inhabitants were left for dead, or went missing. Aid organizations knew they had to get on the ground quickly, or more lives would be lost.
The Doctors Without Borders logisticians who arrived on the island began swiftly deploying 2,600-pound inflatable hospitals. These facilities, developed specifically for disaster response work, contain five tents with enough space for an emergency room, wound care room, pharmacy, and 45 beds. Once the facility was inflated, doctors were able to provide immediate medical care at the stringent hygienic standard necessary to avoid infections.
These tents are not limited to the tragedy in the Philippines. Doctors Without Borders has used them following other natural disasters, including the 2005 earthquake in Pakistan, the 2010 earthquake in Haiti, and the 2015 earthquake in Nepal.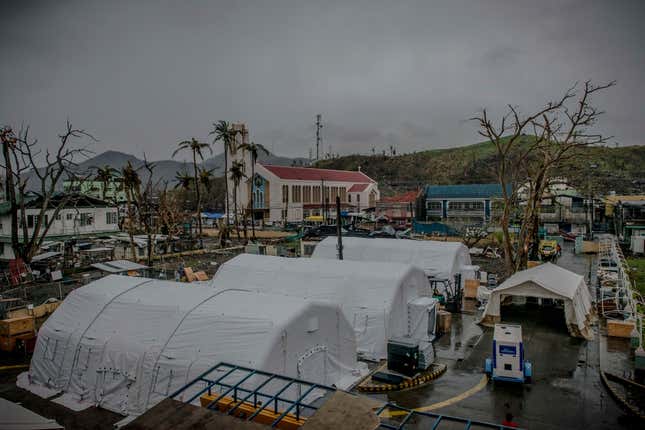 In such emergencies, urgency is key. Devastated populations don't have time to wait for hospital restoration—they need quality care immediately. With these innovative mobile facilities, doctors are given a chance to provide help to those who desperately need it.
Learn more about the work of
, or donate to Doctors Without Borders' initiatives around the world.
This article was produced on behalf of Doctors without Borders/Médecins Sans Frontières (MSF) by Quartz Creative and not by the Quartz editorial staff.