Greek unemployment rose to 27.6% in May, up from 27.0% in April, as the generalized collapse of the country's economy continues.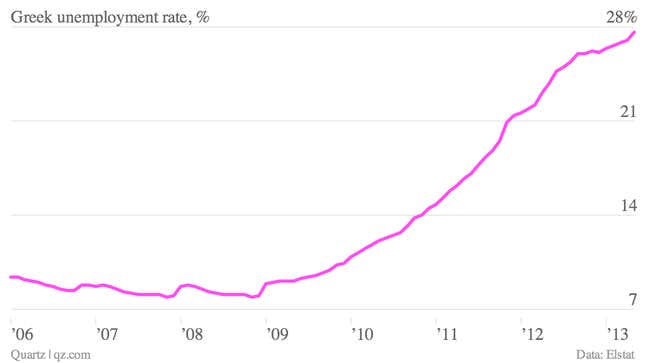 While the profligacy of the Greek government in recent decades got Greece into this mess, driving up debts to unsustainable levels, the pain Greeks are facing now is part of the enforced austerity demanded by the European lenders who had to bail the country out. (The level of human suffering here is quite high, and can be seen in rising numbers of suicides among other indicators.)
We can understand why European lenders would want to tie the billions of euros of aid they're providing Greece to tough requirements on the country. And perhaps—perhaps—some of the pain Greeks are facing now as part of an enforced austerity would be worth it if it put the country on the path to some sort of sustainable debt.
But if that's the plan, it so far isn't working. Greek debt-to-GDP levels continue to climb, even after that pile of debt was restructured to make it easier to carry. The key metric of debt sustainability for Greece hit 160% in the most recent update.