Inside Samsung's 837 store in New York, you can test drive the company's latest devices and smart-home gadgets, sign up for a workshop on how to use their touchscreen-enabled refrigerators, stroll in a screen-covered VR tunnel, and watch as your entire Instagram profile unfolds before you in a dizzying display. It's three floors of cutting-edge technology spread over 56,000 square feet—and you can't buy a single thing. (Except coffee. And maybe a bagel.)
The idea that a brick-and-mortar store would lack actual, purchasable merchandise seems like a gamble, especially for a colossal space like Samsung 837. But more retailers are beginning to embrace the "un-store," which is a retail space that doesn't actually stock products for sale. By eschewing the traditional sales-based model for one that focuses on customer engagement, product education, and services, the shopping experience becomes less about the bottom line, and more about top-line brand engagement and loyalty-building.
"It's more about that intangible result," says Michael Koch, Samsung's senior director of store development, who first referenced the un-store concept during his closing keynote presentation at the International Retail Design Conference in September. When people visit Samsung 837, they're in a comfortable environment where they can relax without feeling the pressure of a sales associate encouraging them to buy something. They're therefore free to spend more time learning about the products and interacting with them, which boosts their connection to the brand and their understand of its wares.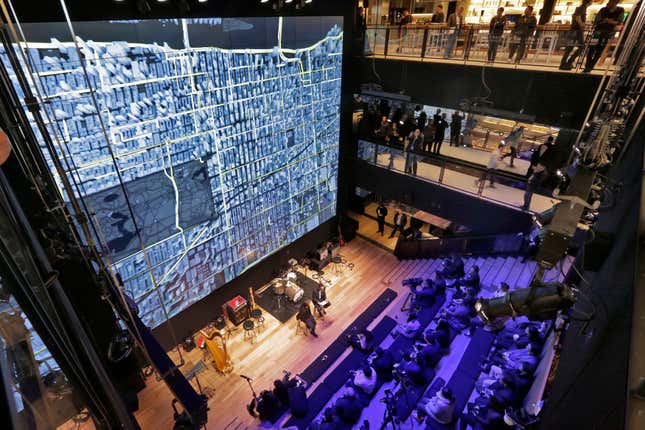 In its first 10 months in operation, Koch notes that almost a half million people have been through the space. Whether those visits were to see musician Gwen Stefani perform, attend a cooking demo, or snap a photo at the Selfie Station, those interactions can give the retailer more valuable information than money can buy. For example, they can use the data generated during a store visit to determine if a particular campaign is working, or if there is more interest in a one product versus another.
"At 837, you can spend as much time as you like," Koch says. "I don't care when you leave. I don't care how many questions you ask. I don't care if you sit there all day on that phone or on that tablet. Mess with that refrigerator all day long until you're happy with it. The data that comes from that particular interaction…you can't quantify just how much information we've been receiving from it."
This past October, department-store retailer Nordstrom launched its own un-store concept with Nordstrom Local, a 3,000-square-foot, service-driven space in Los Angeles' West Hollywood district. It's tiny compared to a typical Nordstrom store, which measures about 140,000 square feet, and features a styling suite and eight dressing rooms. And like Samsung 837, it lacks dedicated inventory.
Here, the focus is on convenience. With LA's notorious traffic disincentivizing trips to their larger locations, they offer services such as personal styling, on-site alterations, in-store pick up, returns, manicures and, of course, coffee, drinks, and wine. "We're constantly listening and evolving with our customers," says Shea Jensen, Nordstrom's senior VP of customer experience. "For example, we know that driving in LA traffic can be challenging and can often take customers a long time to get to one of our stores, even if it's a few miles away." While Jensen says there aren't current plans to open more locations, the hope is that the store provides a convenient, central hub to better serve its West Hollywood customers.
Buying merchandise online sight-unseen can be risky as well as impersonal—and when it comes to buying your fiancé a wedding ring, this effect is compounded even further. Jewelry retailer Blue Nile existed solely in the online space for sixteen years before it opted to open a physical un-store location in 2015. Its portfolio now includes six "Webroom" stores, the latest of which opened this November in Salem, New Hampshire. "As much as we educate the consumer on the ability to buy diamonds and fine jewelry online—and you can, we've built a successful business under that model—we recognize that the consumer wants to shop where they want to shop and a certain segment wants to look at the styles in person," says Josh Holland, Blue Nile's director of brand experience.
The company's Webroom un-stores don't stock inventory and average around 500 to 700 square feet. They feature a curated selection of its jewelry with an emphasis on engagement rings, which make up approximately 70% of the company's business. According to Holland, customers spend anywhere from 20 minutes to two hours inside its stores trying on different ring styles and learning about diamonds. The one difference here is that customers can make an online purchase via an in-store tablet. It's then shipped directly to their home for free.
Blue Nile has seen positive results since opening physical locations. When a customer visits a Webroom, the average spend on an engagement ring is $7,500, compared to $6,400 when purchased on its website. Holland notes that the first four of its Webrooms that were open in September 2016 have experienced year-on-year growth. He also credits the un-stores as a successful marketing channel. "A lot of people, when they come across our Webrooms, have never heard of Blue Nile before," he says.
Samsung's Koch recognizes that an un-store isn't going to be an optimal venture for every retailer, nor was it even an intentional decision for them from the beginning. "The idea was never, 'Let's go and create a store without any inventory for our consumers,'" he says. "The intent was always to find a better way to display products in a way that people would understand them, and be educated in a more comfortable environment."
For retailers that pursue an un-store environment, the potential to learn more about your customers' behavior and gain brand loyalty can even be more valuable than their dollars.