Beijing authorities are investigating child-abuse allegations at a kindergarten run by a US-listed preschool education group, which operates up to 1,800 kindergartens and day-care centers across 300 cities in China (link in Chinese). It's the second high-profile case of alleged child abuse at a Chinese school this month.
Some parents of children who attend the Red Yellow Blue kindergarten operated by RYB Education, in Beijing's Chaoyang district, said that they found needle marks on their children, according to state newspaper People's Daily (link in Chinese) yesterday (Nov. 23). A total of eight children were reported to have needle marks, according to financial news outlet Caixin (link in Chinese). Some parents also told the publication that their children had been given unidentified pills, brown syrup, and were sometimes forced to stand still or locked inside a dark room as punishment.
Authorities who examined the children confirmed the needle marks were genuine.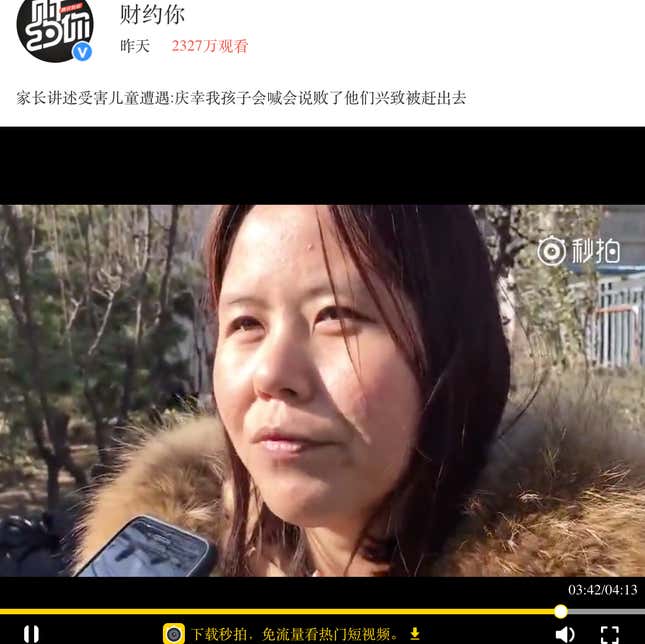 One of the parents who reported the incident to the police (link in Chinese) said she found needle marks on the arms of her child, Tong Tong, a three-year-old who started at the school around two months ago, according to a video interview posted yesterday on news portal Caiyueni. The parent also said that her child told her that one time an adult male was naked while conducting body checks on children in the class.
RYB said that it has already suspended the teachers in question, according to an official statement (link in Chinese) released today (Nov. 24). The Beijing-based education group said it was "deeply sorry" and has handed relevant surveillance footage and equipment to police for investigation. It has also reported potential "malicious claims and defamations from individuals" to police. The school operated as usual today. Multiple calls to RYB's headquarters from Quartz went unanswered.
The abuse allegations concern an international class, which provides an "immersive" environment for kids to learn English, according to RYB's website. Caixin reported that the class costs around 5,000 yuan ($758) a month—about half of the city's average monthly salary. A public kindergarten in Beijing charges around 550 yuan ($83) per month.
It's also not the first time that RYB has been embroiled in child-abuse allegations. In December 2015, nearly 30 children in one of RYB's branches in northeastern Jilin province were found with needle marks. Four teachers from the branch were sentenced to prison (link in Chinese) last year, said People's Daily.
According to Caixin's estimation, there have been around 60 child-abuse incidents in kindergartens in China since 2010.
RYB, founded in 1998, went public in September on the New York Stock Exchange, becoming the first Chinese early-childhood education provider to list in the US.
RYB's latest scandal comes after an earlier incident of alleged child abuse at a Shanghai day-care center affiliated with China's largest online travel agency, Ctrip. In one video from footage released by police, a teacher can be seen grabbing a backpack from a girl's back before pushing her into a table, while another showed a teacher forcing a child to eat what some claimed to be wasabi. Ctrip, which outsources management of the day-care center to a third party, apologized and said it was taking the matter seriously.