If it seems like bitcoin is hitting new highs more frequently, it's not just your imagination. The cryptocurrency is smashing through psychological barriers—that is, big round numbers—with increasing frequency.
In part, this is simple math: The jump from $1,000 to $2,000 is much steeper, in percentage terms, than from $8,000 to $9,000. Still, as bitcoin surpasses each new symbolic level it generates more attention, potentially attracting more buyers who want to get in on the action.
Bitcoin passed $9,000 for the first time yesterday (Nov. 26), just a week after it crossed $8,000. It took a bit over two weeks to do the same thing between $7,000 and $8,000. And so on, and so forth. Behold: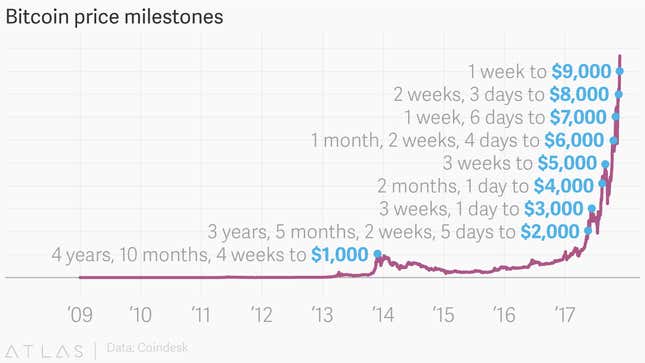 Bitcoin has traded as high as $9,700 so far today, so it may hit the $10,000 mark before too long. The trader who bought the first long-term call option on bitcoin at a $10,000 strike price by Dec. 28 next year will be pleased.
Then again, the cryptocurrency is so volatile, there's no guarantee that it can sustain its current rate of rapid growth for that long. After all, remember it took than three years for bitcoin to recover from a major crash at the end of 2013, shortly after it hit $1,000 for the first time.