Update (Aug. 22): This article was originally headlined "Europe's tallest residential building has no elevators." It appears that we, like many other media outlets (but that's no excuse), got it wrong. The InTempo building does have elevators—and elevator shafts—adequate for its full 47 stories. As the blog Microsiervos explains (link in Spanish), all the numerous reports of the supposed fiasco trace back to an article in El País (Spanish), which says, citing anonymous sources, that on the architects' original plans, rooms for housing the elevator motors on the roof of the building weren't big enough. If this was true, it has apparently been fixed since. At least one blogger has taken the elevator up to the 45th floor (Spanish) and posted photos. We apologize to InTempo for the error.
Original story:
On the Mediterranean coast, in the town known for pioneering cheap package tourism, Spain is building what will be Europe's tallest residential building. Benidorm's InTempo skyscraper is a gargantuan structure—some 650 feet (200 meters)  tall—and architecturally ambitious: Two separate towers are conjoined over 550 feet in the air by an inverted cone which will house a massive garden and pool. But it's also massively flawed: It doesn't have any elevators capable of going all the way to the top.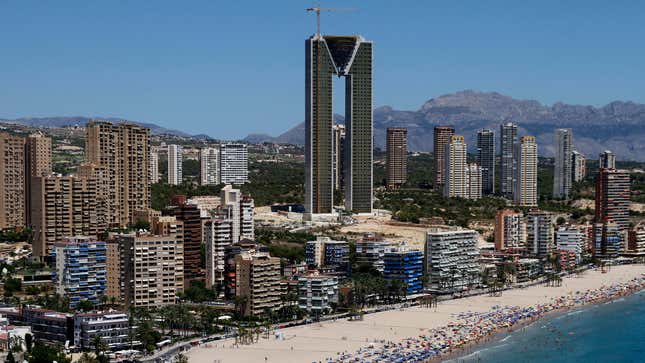 At the heart of the problem is the project's rapid evolution. When first conceived, it was to stand only 20 stories tall, but that number quickly shot up to 47, and the elevator plans didn't change accordingly. The elevator shafts are only spacious enough for lifts and motor equipment capable of scaling the original, 20 stories.
The building's construction has also suffered financing setbacks. The project was initially backed by a local bank called Caixa Galicia in 2005, but the bank has since gone under. Currently, ownership of the building is cripplingly complex: a bank called Sareb owns the debt; the property belongs to a development company called Olga Urbana; and real estate company Maxxima is the only body capable of selling it, according to a signed contract, reports Spanish newspaper El Pais (link in Spanish)
Fixing InTempo's structural flaws will mean tampering with its architectural vision, and funneling even more money into the project. The only viable way to correct for the builder's design gaffe is to erect external elevator shafts. Whether the developers can handle the added expense, and the market is willing to forgive the project's series of missteps, remains to be seen. Some 45% of the skyscraper's 269 apartments have already been sold, but "sales are going slower now," the project's architect, Roberto Pérez Guerras, told El Mundo (Spanish) earlier this month. InTempo's grand opening is scheduled for December of 2013, a date that now seems quite unlikely to be met.