The death of China's solar industry appears to have been greatly exaggerated.
Despite staggering debt loads and falling prices for photovoltaic panels, Chinese manufacturers set new shipment records in the second quarter of the year, according to a report released today by market research firm NPD Solarbuzz.
Solar panel shipments from the world's top 20 manufacturers jumped 21%, to 5,800 megawatts, in the second quarter compared the previous year. Five Chinese manufacturers—Yingli, Trina Solar, Jinko Solar, Renesola, and Canadian Solar—accounted for a third of global shipments, the report said.
Conspicuously absent was Suntech, until 2012 the world's largest photovoltaic manufacturer, which has imploded this year amid the bankruptcy of its Chinese unit. The new leader is Yingli, which shipped 9% of the world's solar panels in the second quarter. First Solar, the sole US manufacturer to appear on the list, had 4% of global shipments.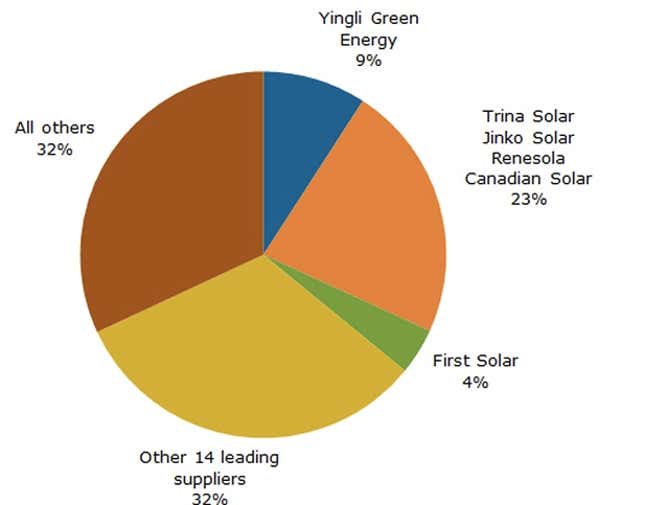 "The leading solar PV suppliers are now starting to pull away from the pack, which provides strong evidence that the anticipated industry consolidation is finally in progress," Ray Lian, a NPD Solarbuzz senior analyst, said in a statement.
When I sat down with Mark Mendenhall, president of Trina Solar's US operations, earlier this month in San Francisco, he said that consolidation of the Chinese industry as well as expanding markets in China, Japan, and Latin America have helped the industry recovery.
"There were about 400 manufacturers in China; now there's about 150," Mendenhall said. "I think the focus in China will be on a few big global brands."
He said that Trina chief executive Jifan Gao's focus on profitability over expanding market share at any cost has kept the company's balance sheet free of the billions of dollars in debt that saddle some of its competitors. "He hasn't chased after rabbits," Mendenhall said. "We will walk away from a deal if the price isn't right."
And so far the tariffs imposed on Chinese solar cells last year by the US government—in retaliation for dumping cheap panels on the American market—doesn't appear to have had much of an impact.
Mendenhall said that Trina, like other Chinese manufacturers, now obtains solar cells from Taiwan for panels destined for the US. Those prices have risen but remain far below the 31% tariffs levied against manufacturers like Trina.