Technically, children under the age of 13 aren't allowed on Facebook. But many kids manage to sign up for Facebook and Instagram quite easily, making them vulnerable to all of the internet's dangers.
Now Facebook is rolling out a platform that will allow children to use one of its services—with plenty of parental supervision. Opening up a massive new pool of users, the company is introducing Messenger Kids, a standalone app that lets kids communicate with their family and friends.
The app, which launches on Dec. 4,  is ad-free, and the initial version will only be available in the United States and on iOS devices. It has two functions: video-chatting and messaging.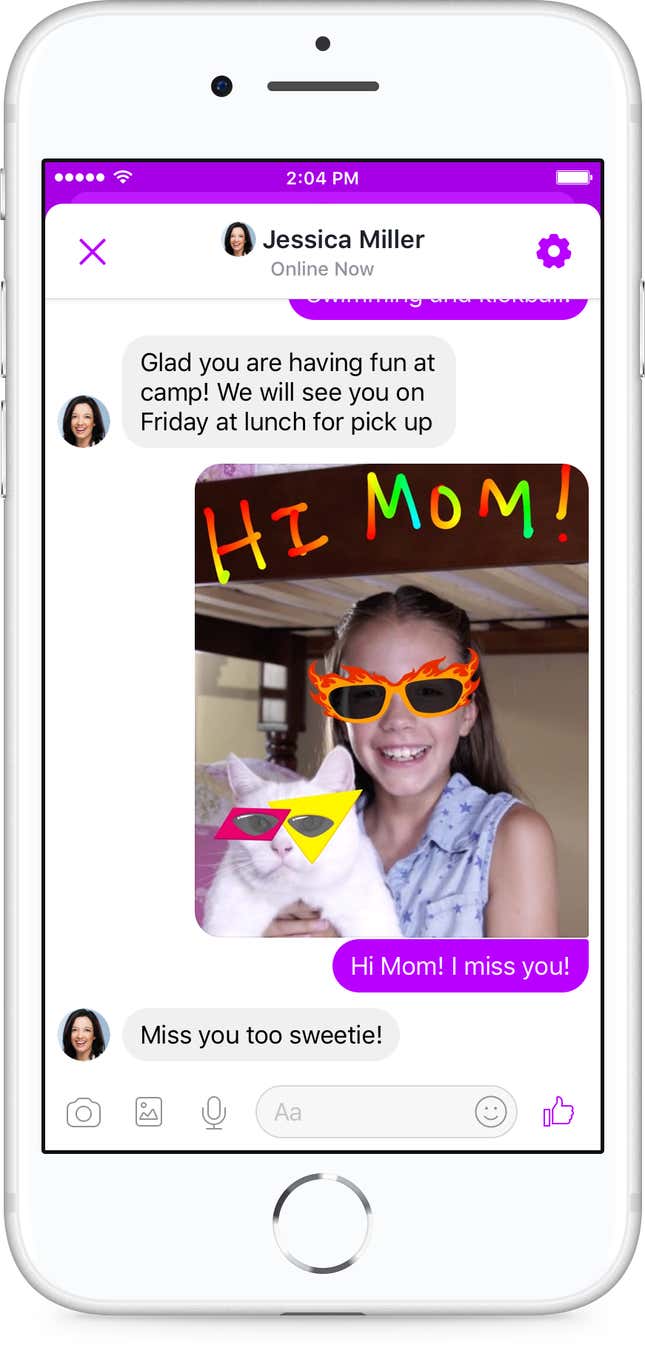 Facebook says parents wanted one feature above all. "In all of our research, there was one theme that was consistent: parents want to know they're in control," Antigone Davis, Facebook's public policy director and global head of safety, writes in a post. Parents have to approve a child's contacts, and they can request friends on behalf of their kids from their own Facebook account. Messages never disappear and can't be deleted, so parents can always find them on their kids' devices.
Kids also get to block any person they don't want to talk to, and they can report inappropriate messages. The company also says it designed special protections to block abusive content from appearing in the app.
Anticipating concerns about privacy, Facebook says that the app will collect minimal data from its users, aside from identifying which contacts the user interacts with most frequently, or in order to "to find ways we can improve Messenger Kids." Messenger Kids is separate from Facebook, so a child does not need an account on the main platform.
While parents may be enticed by the new Messenger app's safety features, it also has plenty of features meant to appeal to kids, including specially chosen GIFs, stickers, masks, and frames, as well as drawing tools. As with many features or services that Facebook adds to its portfolio, the idea for a messaging app specifically for kids is not new. Several already exist on the market, including the French Monster Messenger, which shares many of the features.  
Facebook says its work on the app was informed by conversations with thousands of parents and child development and online safety experts, as well as associations such as the National Parent Teacher Association. A study that the company conducted in partnership with the PTA showed that 81% of parents said their kids started using social media between the ages of eight and 13, and 66% of six-to-12-year-olds have their own tablet or smartphone.
Many parents struggle with the decision about when to give their child a device, with experts warning about the detrimental effects of too much screen time and online social interactions for a child's cognitive and emotional development.
A Facebook spokesperson told Quartz that parents won't be able to control how much time their child spends on the app for now, but that this concern was part of the parental feedback in their research. Facebook plans to explore the possibility of that feature for future versions.