Germans are feeling better and better.
Today the closely watched Zew Institute gauge of investor sentiment on the German economy jumped more than expected to a reading of 42, well-above the long-term average of 23.7 and the best since March of this year. The gauge was driven higher by expectations that the euro zone may emerge from recession, as well as strong domestic demand within Germany. The update on euro zone GDP due tomorrow will show whether Europe as a whole managed to grow in the second quarter. (Economists surveyed by Bloomberg expect the euro zone to have expanded overall, which would technically mean an end to its recession.)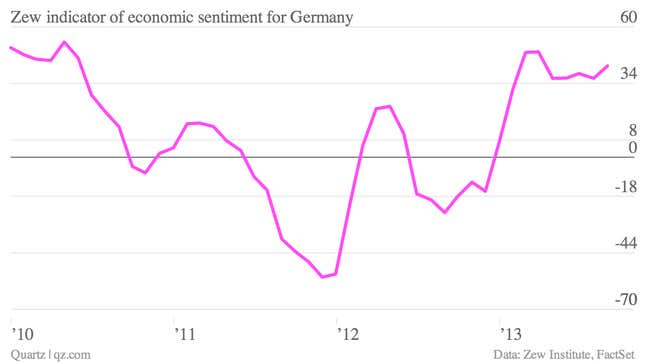 As Europe's largest economy, Germany is going to play a crucial part in whether the monetary bloc grows or not. The recent signs have been good. Industrial production, for example, was up 2% in June versus the prior year and new manufacturing orders also posted their best year-over-year gain since late 2011. In fact, Germany industrial production almost single handedly pulled up euro zone as a whole 0.7% in June.
But the numbers from Europe's other largest economies—France and Italy—are far less rosy. French industrial production shrank again in June. Some 3.3 million are unemployed and looking for work in the country, the largest number on record. Meanwhile, Italy's unemployment rate was hovering over 12% in June, near the highest on record. Though industrial production there was up 0.3% in June.
And then there's the economic catastrophe in Spain—the euro zone's fourth-largest economy—where unemployment was 26.3% in June. (True, unemployment looks to be starting to drop there. But that's cold comfort to the 4.7 million unemployed.)
The vast gulf between Germany and the other large European countries—such as France—is an important reason not to expect much of a contribution from Europe to global economic growth, even if it does technically emerge from recession. And if demand for German exports starts to sag because of the slowdown in fast-growing emerging markets such as China, Europe's visit to the land of economic expansion could be a short one.