Javier Malavé was in Toa Alta, Puerto Rico when Hurricane Maria hit. He and his wife had left their San Juan apartment with their 2-year-old son to hunker down with his sister-in-law in her home. He knew it would be dangerous to ride out the storm, yet never once did it occur to him to leave the island as so many others did.
"I can't explain it," he tells Quartz. "I wanted to be with family. We were going to go through this together. And I thought that if there was anything I could do to help in the immediate aftermath, then it would be easier to stay than to leave."
Only days after the storm passed, Malavé mobilized. He discovered cell service at the medical center near his childhood home and began making frequent trips there to get online. A former engineer within Texas Instrument's communication infrastructure business unit, Malavé used his experience to research communication solutions that could be implemented without bulky infrastructure.
"You tend to think that the first thing you would need in a disaster is food and water and medicine," Malavé says. "While that's the ultimate need, you won't get there fast enough if you don't have communications up. That's what we saw happen in Puerto Rico those first two, three weeks."
He quickly connected with Brooklyn-based startup goTenna, which makes handheld devices that can send short-range texts without cell towers. Shortly thereafter, he learned that his friend Ricardo Alfaro, former IT director for the governor of Puerto Rico's office, was working with a different experimental solution: using antennas produced by GPS technology company Garmin to enable long-range texting via satellite. The two joined forces and started a crowdfunded campaign to deploy both technologies.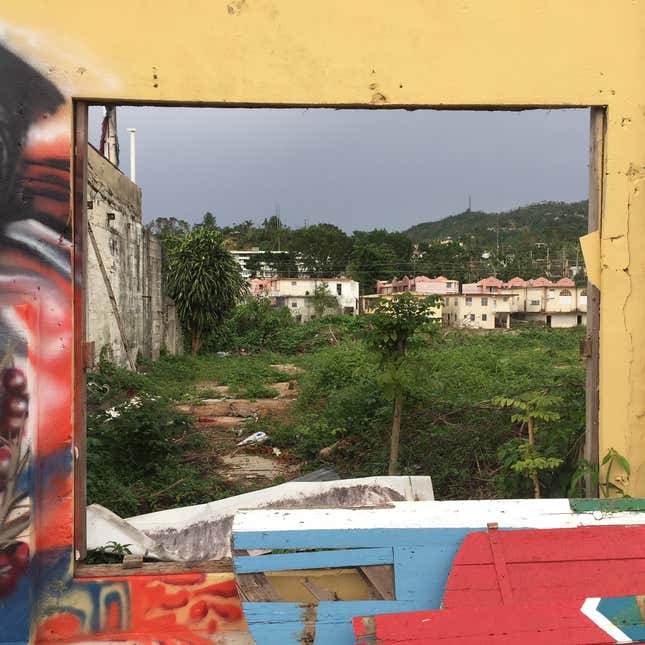 After Maria, Puerto Rico's residents have grappled with unprecedented devastation. Maria wrecked the island's already vulnerable electric grid and wiped out nearly all of its cell towers. By official count, 55 people were killed, but a lack of power at hospitals and limited means to call for help have contributed to about 1,100 more deaths per month since the hurricane, compared with the same months in normal years. As a result, a recent study—not yet published in a peer-reviewed journal—said the true toll may exceed official numbers "by a factor of 10, or more."
Now 83 days later, power and connectivity haven't come back fast enough: 22% of cell towers still remain out of service, according to the US Federal Communications Commission, and more than a quarter of residents are living without power, according to the Puerto Rican government. Some emergency-relief experts are also skeptical of those numbers and say they don't reveal the full picture of what's happening on the ground. Cell towers are being powered by diesel fuel, which is financially unsustainable and unable to provide robust service. Business and residential areas have also relied on backup generators, but outages remain common.
As government, tech companies, and nonprofits have worked to bring the US territory back online, Puerto Rico and its people have turned to new technologies to connect with one another and the outside world. The solutions have come from islanders themselves and companies that have come to help. "FEMA and GoPR are excited about any organization that will potentially help get the communities online, in the shortest amount of time," Frank Schott, vice president of global programs at nonprofit NetHope, tells Quartz.
Puerto Rico reinvents itself
Between working a full-time job at the Puerto Rico Science, Technology & Research Trust and rebuilding his own life, Malavé moved forward on his plans with Alfaro. The small amount of money they raised helped buy a handful of Garmin antennas and goTenna Mesh devices, and several lightweight solar panels to power them.
Actually getting the equipment to Puerto Rico proved to be a challenge. Unable to reliably ship through UPS—at one point the service lost their solar-panel shipment—Alfaro had the items shipped to his home in Washington DC, where he now serves as an IT developer for the federal government, and brought the items with him on flights. He took three trips between DC and Puerto Rico to deliver the equipment and help with deployment. Eventually the group connected with a nonprofit helping with relief efforts and were able to borrow space on its cargo plane.
They chose Barranquitas as their first location—the second hardest-hit municipality, isolated in the central mountains of the island. "There was barely any telecommunications," says Malavé. Companies like T-Mobile and AT&T were struggling to provide service. But a local resident, who had been traveling 30 or 40 minutes away just to connect to wifi, asked Malavé and Alfaro to come and try their solution.
GoTenna devices work by creating a distributed communication network, where each device acts as a node that can relay data to the others. A device can be left in a safe location, to act as a permanent relay node, or paired with a smartphone to send texts to other phones on the network. The devices have roughly a quarter-mile range in dense, urban environments and five miles in more open spaces. A Garmin antenna relays data to a satellite, allowing texts to be sent anywhere.
The group decided on a hybrid strategy: Set up a goTenna Mesh network for volunteers to coordinate relief efforts within the community, and a Garmin antenna for the community to reach others outside it. With the support of the local Catholic parish, the group gained access to rooftops to set up goTenna Mesh devices within talking range. Three relay nodes, wired to solar panels, were enough to provide coverage for the entire community. Two more were paired with smartphones for people to use on the ground. The group also set up a Garmin antenna for the parish.
Within three days, volunteers were using both technologies to more effectively coordinate the delivery of food and medicine.
The video below shows Malavé's goTenna rooftop setup:
A new openness to experimentation
In a typical emergency, relief efforts usually rely on proven technologies to regain power and connectivity. This has held true in Puerto Rico, where nonprofits like NetHope have partnered with tech companies to strategically deploy internet and cell-service solutions. "We have to be selective as to which ones we choose to implement—because we have to use what we know works, and because lives depend on it," Schott says.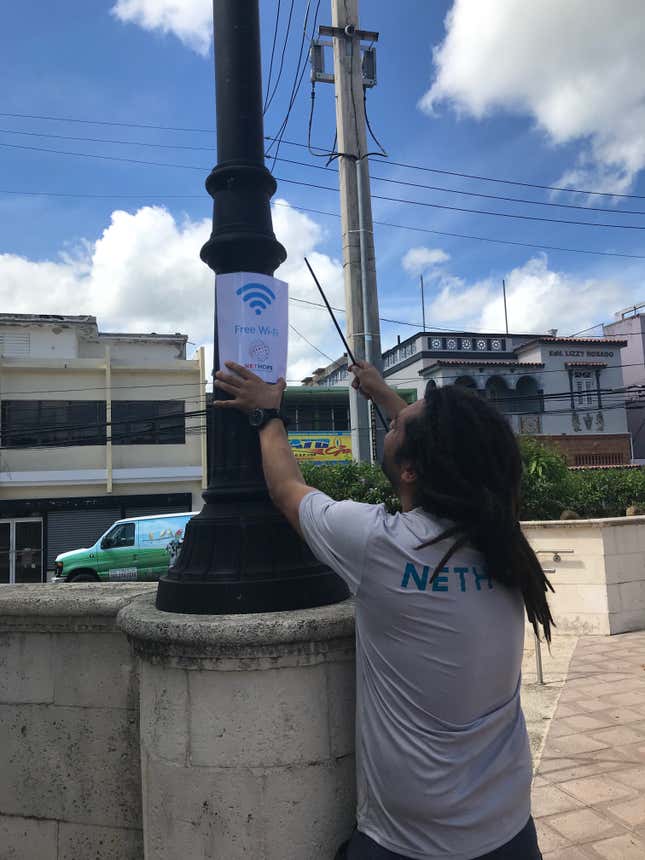 Through a partnership with Facebook, NetHope has been able to identify the communities without connectivity. Facebook's data allows the nonprofit to see the areas that once lit up with Facebook activity and no longer do. NetHope has also partnered with Cisco and Ericsson and local mobile operators to re-establish minimum connectivity—like beaming free wifi into town squares. "We've responded to a lot of emergencies over the years, and occasionally the electric grid is compromised," says Schott. "Puerto Rico had a grid that was near obsolete. Most of it probably isn't repairable."
The scale of the damage has caused government officials and residents to turn more readily to new solutions. In early October, Ricardo Rossello, the governor of Puerto Rico, tweeted an invitation to Elon Musk to bring Tesla battery technology to the island to replace power from the devastated grid. The company has since in been in talks with government officials to figure out its feasibility and has helped restore power at smaller scales, such as to a children's hospital. In late October, Puerto Rico's economic development and commerce department submitted a long-shot bid in the competition for Amazon's HQ2, in the hopes of getting the tech giant's help in rebuilding.
With the support of Puerto Rico's government, as well as federal agencies, Alphabet's Project Loon has been testing beaming internet down from giant balloons for people with LTE-enabled phones in partnership with AT&T and T-Mobile. The service has delivered connectivity to more than 100,000 people, the company said in a statement. The project has provided an opportunity to refine elements of the system that haven't been tested before. "Project Loon is still an experimental technology," Alastair Westgarth, head of the project, wrote of its launch in Puerto Rico in a blog.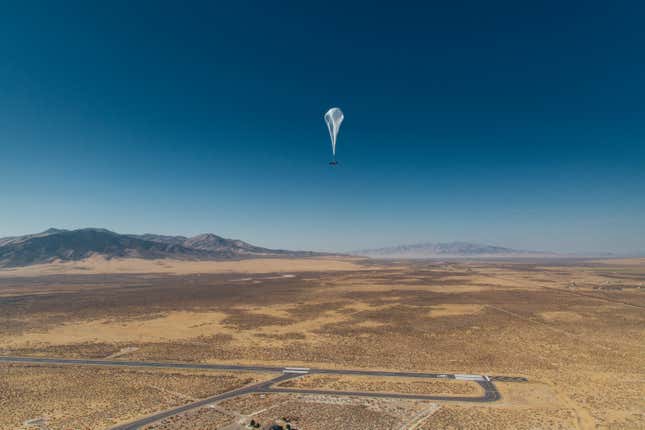 Microsoft has similarly conducted trials of its TV White Space technology to re-establish internet connections. The technology delivers broadband through the unused broadcasting frequencies between TV channels. In Utuado, one of the hardest-hit municipalities, Microsoft returned internet service at a food distribution site, a health clinic, and the University of Puerto Rico, according to a company blog. It also established a TVWS site in coastal Humacao and plans to head to Barranquitas and San Lorenzo.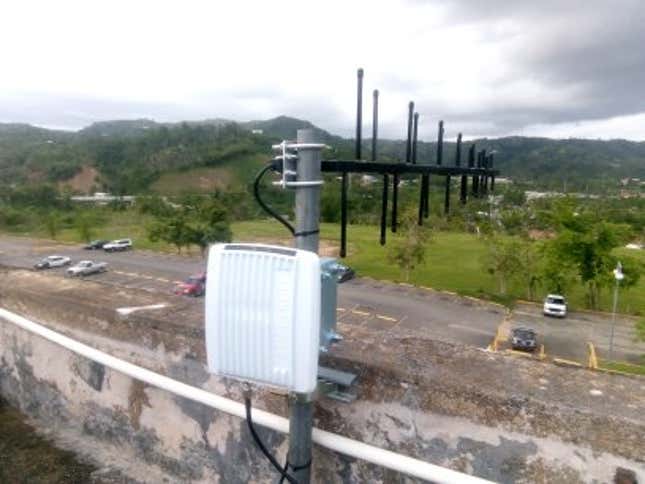 "Companies like Google and Microsoft are investing in some very promising technologies that could change the landscape for emergency response," says Schott.
The long way back
Current estimates differ for when Puerto Rico will fully regain power, but a spokesperson for Rossello told the Washington Examiner that it likely won't be until February. Malavé's own apartment in San Juan didn't regain power until mid-November, and initially, there were frequent blackouts. A week later, he finally also regained internet. "Unfortunately, it's been a very, very slow process," he says.
Malavé plans to head to another municipality soon and is toying with ideas for improvements. "It is still very much experimental," he says. "We're not even ready to make it public. It'll put too much pressure on us."
Malavé emphasizes that his group's deployments don't in any way replace critical infrastructure. "It's a complementary technology, but at the very least it gets people talking to each other," he says.
For a couple weeks, through everything, he, his wife, and his son all were sick. To help everyone recover, he sought to maintain a steady supply of soup. "I was just calling restaurants, saying, Do you have soup? Do you have soup?" Recalling the incident now, he can't help but laugh. "That's funny, it's the new normal. You have to call restaurants to see if they have soup."
He pauses, then adds one last thought: "We have to keep our humor. If we don't have humor and we don't take this with a little bit of comedy, then it's not worth it."
Correction: An earlier version of this article incorrectly stated that Ricardo Alfaro was the former IT director for the governor, not the governor's office, and that Javier Malavé partnered with NetHope for access to their cargo planes. It was a different nonprofit.