Forget "stabilizing"—the euro zone's fragile economy is actually growing again, something it hasn't done since the third quarter of 2011. In the second quarter, the economies of the 17 euro zone members grew 0.3% from Q1 (pdf), surprising analysts who had expected only 0.2% growth. The growth, however modest, means the euro zone has finally emerged from the longest recession in its history (at least if you use the rule of thumb that two-consecutive quarters of GDP contraction means an economy is in recession.)
"The upside surprise shows an underlying improvement in the euro zone as strong exports weakened the contraction in Spain and Italy and spurred growth in core countries, especially France," Ricardo Santos, an economist at BNP Paribas SA, told Bloomberg.
Note that the economy still came in 0.7% smaller than it was in Q2 of 2012 (the orange line below). However, that trend of contraction is reversing. Here's a look.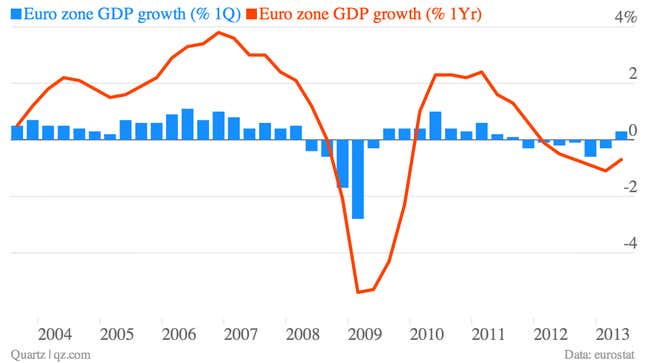 So what exactly buoyed the quarter? The 0.7% GDP growth by Germany, the euro zone's biggest economy, beat forecasts for 0.5% expansion.
But as BNP Paribas' Santos mentioned to Bloomberg, unexpectedly strong second-quarter growth in the euro zone's second-largest economy was also a big factor. A pickup in consumer spending, which contributes more than half of France's GDP, and rising public spending offset falling investment to drive 0.5% Q2 growth—the sharpest increase in quarterly growth since the first quarter of 2011. That means France has finally emerged from recession.
Meanwhile, the economies of Italy and Spain continued to contract, though at a slower pace than in Q1.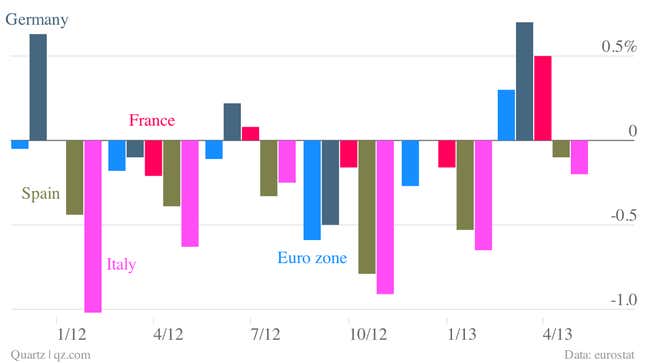 By far the biggest surprise came from Portugal, which posted the strongest growth in Europe: 1.1% compared with the first quarter. As the Wall Street Journal points out, that will strengthen euro zone leaders resolve (paywall) to push Portugal to wean itself off bailout money, as it's scheduled to do next year.