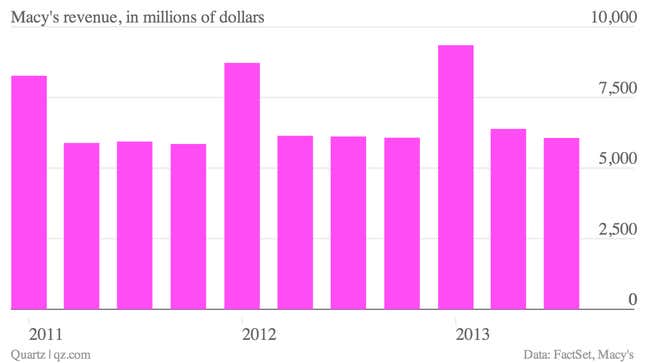 The numbers: Not good. US department store chain Macy's reported earnings per share of $0.72 in the second quarter on revenue of almost $6.1 billion, which fell short of analyst estimates. Macy's shares were down by more than 4% this morning.
The takeaway: Macy's chief executive Terry Lundgren said the company was "disappointed with the results." and blamed weaker-than-expected sales on consumers feeling uncertain about the future. That caused shoppers to pull back on buying non-essential items, he said. US retail sales across the industry rose in July by 0.2%—though growth was stronger at luxury retailers than at stores such as Macy's geared toward mid- to lower-income consumers. Macy's has compensated by adding discounts. But it's heading into the important back-to-school shopping season and Macy's lowered its full-year forecast.
What's interesting: The disappointing sales for Macy's likely presages even worse news for JC Penney, which has lost some customers to Macy's after its previous CEO, Ron Johnson, eliminated discounts. The current CEO, Mike Ullman, has brought back the discounts but the company is still expected to report a fall in sales when it reports earnings next week.