China, the world's largest carbon emitter, is ushering in stricter environmental rules on several fronts in 2018.
Increasingly positioning itself as a global leader on the environment, the country from this month will move to a new nationwide system for charging industries for pollution, and will stop allowing the import of about two dozens kinds of waste. In September, a government official said the country wanted to phase out fossil fuel cars, following similar announcements from countries like France and UK, while the country closed the year with the launch of a national carbon trading market.
China needs these policies to cope with a variety of problems, including deadly air pollution and industrial overproduction that has at times depressed commodity prices. Still, while these policies are beginning to lead to better air quality, someone always has to pay a price for reforms. Here's a look at some of the people, companies, and nations most likely to be affected in 2018—and beyond—by China's efforts to be more green.
Northern city dwellers, Australia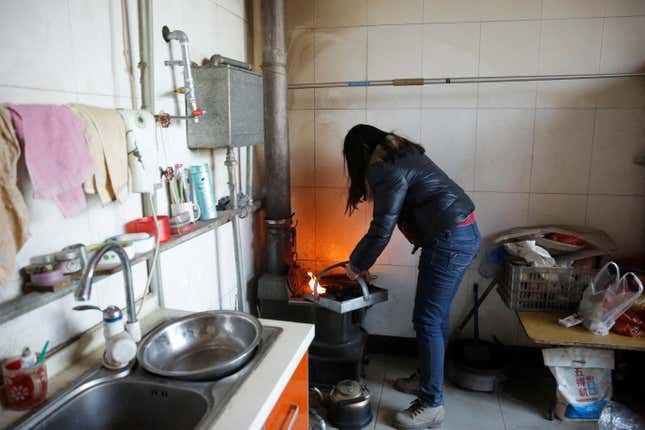 Each year China burns around 300 million metric tons (link in Chinese) of coal for heating, or nearly 7% of the country's total annual consumption. In 2017, as the cold weather approached, it aggressively restricted coal use in 30 cities covered by a state-subsidized coal heating program to improve the winter "airpocalypse" that these northern cities battle every year. The aim is to move millions of households to natural gas instead.
Natural gas supplies fell short though, leaving many people in northern cities shivering instead.
In November, in Xi'an, the capital city of China's central Shaanxi province, more than 170 residential communities (link in Chinese) saw their heating suspended because of the gas shortage. Others couldn't keep up with Beijing's schedule—a school in northern Hebei province (link in Chinese) demolished its coal boilers before it put in place electricity-powered heating.
China was facing a daily shortfall of 40 million cubic meters (link in Chinese) (1.4 billion cubic feet) of natural gas, the energy administration of one Chinese province said in early December. Eventually Beijing had to ease its attitude to coal.
China's Ministry of Environmental Protection issued an urgent letter to local officials (link in Chinese) to allow the use of coal in places still in the process of conversion this winter. It also ordered big chemical producers to shut for months so homes could use their natural gas. The shortage of gas for chemical producers could see the price of spandex products go up.
In the longer term, "China remains a towering presence in coal markets, but our projections suggest that coal use peaked in 2013 and is set to decline by almost 15% over the period to 2040," says the International Energy Agency (pdf, p. 6). Australia's industry department has forecast that Australia will see coal export volumes to China, relatively strong in 2017 as domestic coal prices were high, decline in 2018-2019 (pdf, p. 6).
Ceramics factories, shoppers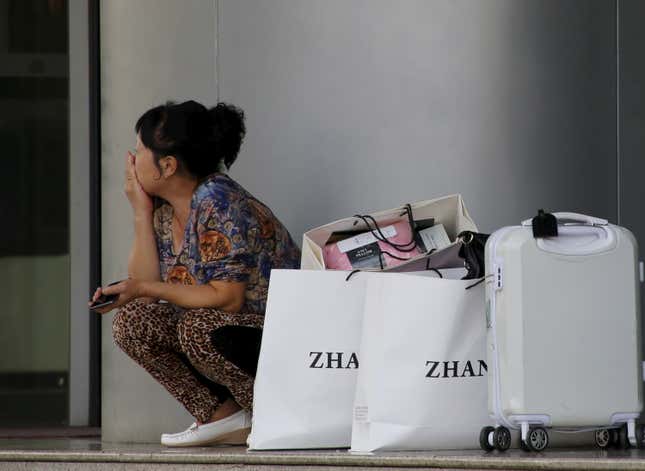 In April, China's Ministry of Environmental Protection started six months of environmental inspections to catch violations at firms located in 28 cities across a region known as Jing-Jin-Ji, which includes Beijing, Tianjin and Hebei (the latter is sometimes referred to by the character ji).
Authorities focused on small-scale companies violating zoning rules (link in Chinese), particularly ceramics, chemical, and cement manufacturers.  The inspections found more than half of the over 40,000 firms examined (link in Chinese) were violating environmental standards, according to the latest data available as of September. These firms faced punishments that included the suspension of operation, loss of manufacturing equipment, and cutting off electricity and water supply.
Zibo, an eastern Chinese city of Shandong province and one of China's ceramics industry hubs, was among the cities that saw firms shuttered because of the inspections. Home to nearly 300 ceramics firms in 2013, Zibo has seen more than 150 companies close and capacity slashed by 70%, according to Reuters.
In December, China's Xinhua news agency reported that inspections from January to November resulted in some $150 million in fines.
In some sectors, companies that come out unscathed from inspections are likely to be larger ones, who were able to spend more on compliance. As competitors face shutdowns, they are likely to be able to raise prices to cover the costs they've faced. For example, a clothing company that says it supplies to Walt Disney, and that spent money to switch to natural gas, was able to raise its prices 8%.
Hong Kong's recyclers, US scrap exporters, your green halo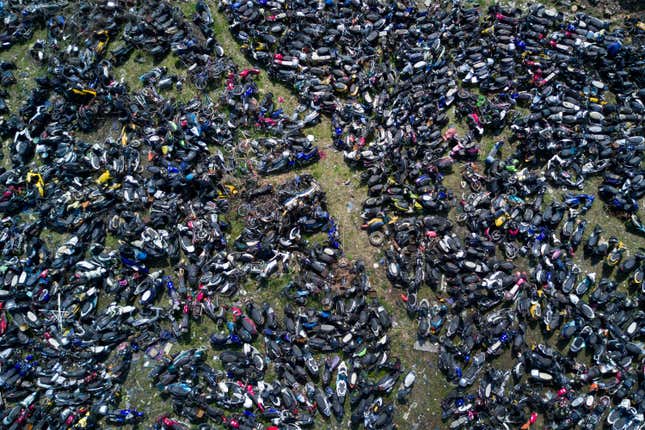 Starting on Jan. 2018, China, a major global importer of many recyclable materials, will stop taking 24 kinds of solid waste from other countries, according to a filing from the country's Ministry of Environmental Protection to the World Trade Organization on July 18. China said it was finding dirty and hazardous waste being shipped along with recyclables.
China took over half of the world's waste plastic in 2016. The move to reject plastic waste could have a "devastating impact" on recycling worldwide, said Bloomberg, noting that some communities in the US were already limiting the plastic they would accept for recycling. At the WTO, the US has raised concerns about whether the ban would cover certain kinds of metal scrap exports that make up a multibilliondollar business for US firms. According to the Wall Street Journal, the US exports about 20 million tons (paywall) of ferrous scrap a year, and nearly $4 billion a year (paywall) in paper and plastic scrap.
The ban will also affect businesses in China that rely on waste paper as a raw material, including packaging producer Nine Dragons Paper founded by "Queen of Trash" Cheung Yan, who built a fortune on recycled paper—on the flip side, the environment inspections have led to reduced competition for larger firms like hers.

In Hong Kong, the ban has left thousands of metric tons of waste paper destined for China in limbo. Since China's announcement, Hong Kong has been racking up 2,500 tons of waste paper a day, Jacky Lau, director of the city's main recycling association, told Reuters in November. The ban has also hurt the city's elderly recyclers, many of whom collect scrap to supplement government pensions that hover around the city's poverty line for an individual—around HK$4,000 a month ($511).
In Sham Shui Po, one of Hong Kong's poorest areas, a woman in her 40s who only gave her name as Yi said that when the announcement first came out, the price of scrap cardboard fell by almost half, from HK$0.70 to HK$0.40 cents per jin, a Chinese measure equivalent to about half a kilogram. Her day of collecting already starts just after midnight—now she'll have to work longer hours and collect more scrap to earn the roughly $50 she usually relies on from recycling.
Russia and Saudi Arabia

Saudi Arabia and Russia have vied to sell ever more oil to China, the world's biggest crude importer. In December, China's crude imports hit a record high. The combination of that demand and OPEC's extended cuts in production is expected to keep the oil market humming along in 2018. But for how much longer?
A British Petroleum forecast (pdf, p. 100) estimates that a combination of deep penetration of all-battery electric cars (say about 300 million globally), along with ride-sharing, could reduce crude demand by 5.6 million barrels a day by 2035. A report from Barclay's Bank says that if electric vehicles account for one-third of the car market by 2040, that would reduce demand by an amount equivalent to China's daily imports last month, which averaged 9 million barrels a day. Or about 90% of Saudi Arabia's daily production.
Of course, in China, electric cars right now account for only about 2% of the car market, and that's after the country has subsidized the purchase of electric cars for several years. But in September, China said it could phase out fossil fuel cars, as other countries are planning to do, though it didn't offer a timeline. There's a reason Saudi Arabia is starting to think about solar power exports.