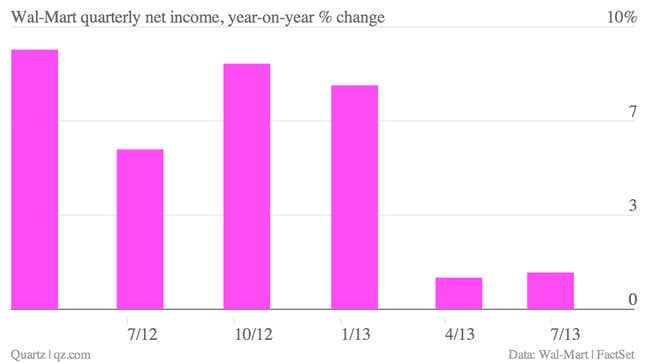 The numbers: Disappointing. Total revenue rose just 2.3% to $116.9 billion during Wal-Mart's second quarter, shy of Wall Street expectations. Profit at the world's largest retailer increased 1.3% to $4.07 billion. Total US same-store sales—the US accounted for 60% of the company's sales in the quarter—were flat. Wal-Mart cut its full-year profit forecast; shares fell in pre-market trading.
The takeaway: Wal-Mart's results in recent quarters have suggested that the payroll tax increases that went into effect earlier this year are pinching less-affluent consumers. Company executives said that was also the case in the second quarter. "The two percent payroll tax increase continues to impact our customer," said Bill Simon, Walmart US president and CEO.
What's interesting: As the Wall Street Journal's Justin Lahart notes (paywall), Wal-Mart's growth prospects are not what they used to be, in part because so many of the smaller stores it once took share from have closed. Now Wal-Mart's main competitors for spending by less-affluent consumers are dollar stores such as Family Dollar and Dollar General, who are every bit as competitive on price.