With the euro zone emerging from its longest recession on record and confidence picking up, more people are buying new cars. Sales in July rose in Germany, France, the UK and Spain, pushing overall registrations 4% higher. Ford, the Detroit automaker that's been outperforming its American peers in Europe, reported a robust 8.7% increase in July sales. But those numbers disguise a grimmer picture.

Manufacturers are lavishing customers with discounts and incentives. In doing so, they're putting sales before margins. "From a pricing perspective I'm not seeing any relief at the moment yet," admitted Roelant de Waard, Europe sales chief for Ford. Customers know the industry is desperate, de Waard added, and "so they're expecting very good deals." In Europe's five biggest markets, discounts offered by mass-market car brands increased 17% from a year earlier to an average €2,518 per vehicle in May, according to Reuters.
Anil Valsan, the lead automotive analyst at EY (formerly known as Ernst & Young), believes artificially inflating sales through discounts and self-registrations (where dealers buy cars ahead of actual sales) is a myopic strategy. "These discounts are certainly not sustainable in the medium and long term. I think we will see some sort of volume correction over the next 6-12 months before actual economic fundamentals help demand recover," says Valsan.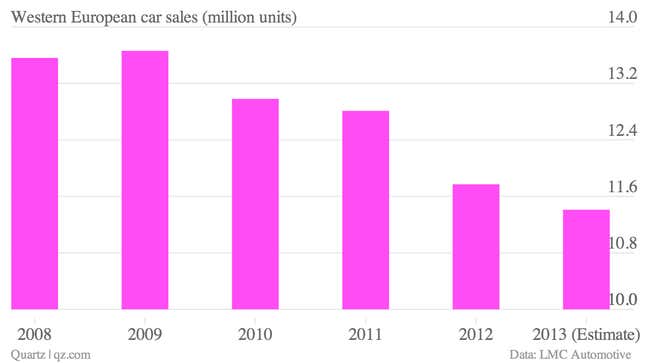 Auto sales in Western European markets may fall to 11.4 million vehicles for 2013, 16% below the 2009 peak, according to a forecast by LMC Automotive. European carmakers themselves are divided about the near future. Ford, Daimler, and PSA Peugeot Citroen (paywall) say the drop in demand may have bottomed out, while others like Renault believe European demand may continue shrinking through 2015.
Experts point out that the high youth unemployment in the euro area—around 24% among those under 25—will continue to keep first-time buyers out of the market. Detroit's near-death experience , when generous cash discounts in the lead-up to 2009 crisis propped up non-existent demand, should also serve as a warning for carmakers in Europe. "Unless manufacturers come to a point where they realistically price vehicles, they will not see sustainable growth, " says Valsan.