A recent state news report may have inadvertently shown evidence of a North Korean nuclear weapon that existed years before experts believed.
The report, on a recent military industry conference in Pyongyang, features a shot of officials walking past a  hallway of framed photos, one of which shows the late Kim Jong-Il, father to current leader Kim Jong-un, admiring a globe-like figure. There's no way of knowing if it shows a mock-up, an actual weapon or even if the photo was altered to show Kim Jong-Il and the orb in one frame.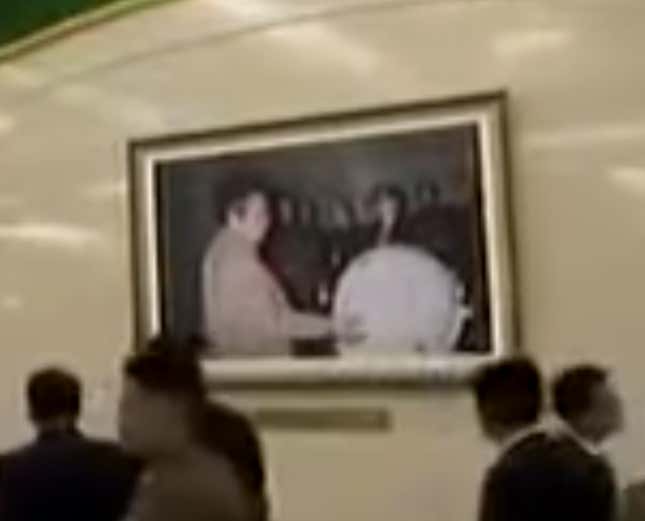 Nonetheless—while the low resolution of the video makes it difficult draw any positive confirmation—the image still piqued curiosity of North Korea watchers. Some believe it provided a previously unseen glimpse of the late leader inspecting a nuclear weapon.
The BBC reports:
---
There are no publicly available images of the late Kim, known in his homeland as the "Shining Star", looking at a nuclear weapon, but some photo manipulation suggests this could be the case in this instance.
It was first spotted by China-based Twitter user @xutianran on 12 December, who asked: "Is this an A-bomb or sth [something]?", a question which had fellow North Korea watchers trying to make a positive identification. US arms control expert Jeffrey Lewis simply tweeted: "This is the photo we're all ogling."

If it is a genuine picture of the late Mr Kim, then it would possibly be dated either 2006 or 2009, when North Korea carried out nuclear tests.

There is the possibility the globe is a mock-up, as there are no records of a scientist being able to miniaturise a nuclear device at that time.