Disney struck a deal to buy 21st Century Fox for roughly $66 billion yesterday (Dec. 14), in a largely horizontal mega-merger, that would allow the two media companies to join forces against tech-turned-content giants Amazon and Netflix.
What makes it horizontal? Both Disney and Fox both dominate the movie production businesses, own popular television channels and production units, as well as major stakes in the streaming service Hulu. By merging two industry competitors into one, the deal is likely to face hurdles from antitrust regulators.
But Disney's CEO Bob Iger believes that, by consolidating strong content production units and distribution channels, it would create more competition in the online streaming services market. As consumers move to platforms, he said in an interview Thursday morning, the deal would ultimately benefit consumers.
We looked at how that competition might play out and key areas that might concern regulators.
A huge player in box office
Walt Disney Studios and 20th Century Fox are two of the "Big Six" movie-making studios worldwide. Quartz looked at the last 100 movies released. Fox and Disney combined comprise almost half of the box office gross.
Here's the list of the 38 films (20 by Disney, 18 by Fox) that the big two most recently released:
Ruling the small screen
Buying Fox also means Disney would be the new owner of a string of household television networks, including FX Networks, National Geographic Partners and Fox Sports Regional Networks, mixing Disney's popular-family friendly offerings with more adult-oriented entertainment options from Fox.
Currently, both companies own cable networks with broad access to TV watchers. After the acquisition, Disney would be able to expand national viewership significantly.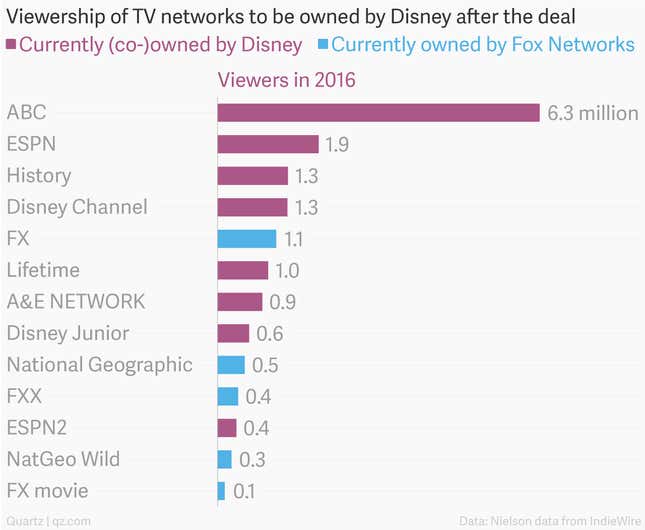 Excluding Fox News and Fox Business from the deal makes sense, as they are some of the most popular networks Fox owns, and that could raise red flags for regulators. Fox News and Fox Business took a significant share of viewers, 2.6 million, in 2016 according to Nielsen. But acquiring Fox Sports's 22 regional networks might invite scrutiny as well, since Disney already owns ESPN, the most popular national sports network, and regional sports channel are essential to sports fans.
Stepping up to streaming
And the final piece: After taking the 30% share from Fox, Disney would own 60% of Hulu making it the defining voice in Hulu's future and a key player with tons of content to offer in the online video streaming market. Judging from the dominance of Netflix, that is most likely to increase competition.