It's been three months since Hurricane Maria blasted through Puerto Rico, causing billions of dollars in damage throughout the island and knocking out power for weeks.
The true death toll is still unknown. The government's official hurricane victim count is at 64, but an unusually high number of deaths in the weeks after the storm suggest many more died because of it. From Sept. 20, when Maria hit, through October, Puerto Rico's Demographic Registry recorded some 1,000 additional deaths (link in Spanish) than in the same period the previous year.
How many of those people were killed by Maria's wrath, or by the emergency conditions it created? Could any of those deaths have been avoided by better disaster preparedness? Quartz has partnered with Puerto Rico's Center for Investigative Journalism (CPI) to find out.
The government, which had insisted its counting method was accurate, said on Dec. 18 that it will conduct a more extensive review of deaths after the storm.
The data CPI has collected so far sheds light on how incomplete the government's current count is. CPI has documented 73 more hurricane-related deaths than the government, some in places where there isn't a single official death.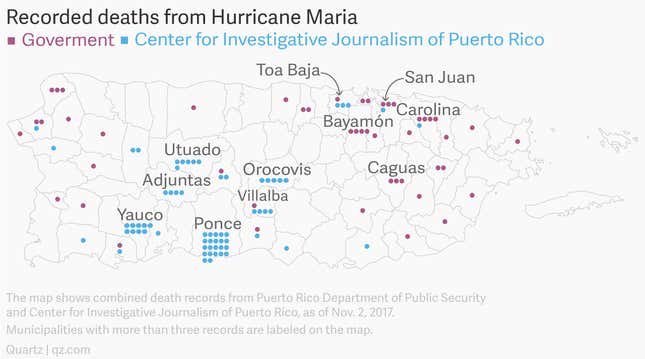 We are asking the relatives and friends of people who died in Maria's aftermath to help us fill in the picture. Please complete the form below. We will be taking submissions until mid-February.
Click here for the Spanish-language version of the form, and here for English.