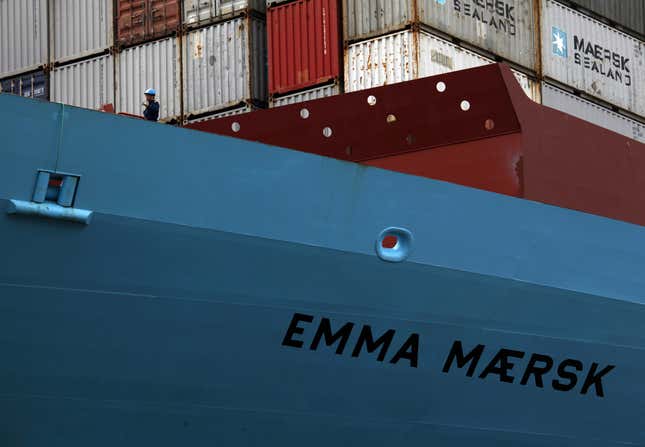 The numbers: Not great. But better than expected. A.P. Møller-Maersk's quarterly revenue fell 9% to 81 billion Danish kronor ($14.16 billion) in the second quarter.  Profits declined 13% to 4.89 billion kronor. Lower oil production at its Maersk Oil division weighed on results. The good news came out of its Maersk Line container shipping division where profits nearly doubled. The company raised its full-year earnings forecast but warned that the outlook "is subject to considerable uncertainty, not least due to developments in the global economy."
The takeaway: While the profit at Maersk shipping division is heartening, it was driven by cost-cutting rather than rising revenues. The company spotlighted improvement in the efficiency of its vessel network and declining fuel expenses. Volumes were up 2.1%, however. Other shippers have been able to find a way to turn around their fortunes lately too. Germany's Hapag-Lloyd returned to the black in the second quarter on a similar combination of declining fuel costs and increasing efficiency. That could be a sign that the industry is slowly charting a new course after nearly five years of rough seas driven by declining trade and a glut of capacity.
What's interesting: From its origins with the purchase of a single, second-hand tramp steamer in 1904, Maersk has become the world's largest shipping fleet and makes up 15% of the world's shipping global container shipping capacity.