This wasn't supposed to happen.
The Indian central bank's surprise decision to impose capital controls on local companies and individuals achieved the exact opposite of what the regulator had hoped to achieve. Investors equated it to pressing the panic button on the rapidly depreciating currency, further undermining confidence. The rupee briefly surpassed 62 to the dollar and closed at a fresh all-time low, while the stock markets had its biggest one-day decline in nearly two years.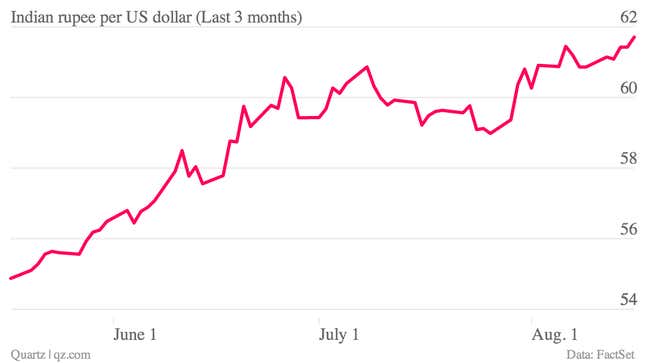 Earlier this week, the Reserve Bank of India reduced the maximum amount of outward direct investment permitted by companies and individuals to a quarter of its previous level, capping it at 100% of the investor's net worth. Friday was the first chance for investors to react, since markets were closed yesterday for independence day.
The extreme move, which turns the clock back on two decades of reforms, caught investors and corporates off guard. DG Shah, the secretary-general of the Indian Pharmaceutical Alliance, told the FT (paywall) that the government "is groping in the dark, and coming up with measures without any serious consideration from industry, or people who can tell them the consequences of their actions."
Indeed, businesses fear the restrictions impede their ability to compete in global markets. The measure also set off warning bells among international investors. "The fear is that if today they are targeting capital controls on Indians, one can contemplate controls on foreign investors also if the rupee were to fall further. That is definitely on the back of people's minds," says Brijen Puri, head of markets at JP Morgan India.
Earlier this week, finance minister Palaniappan Chidambaram pledged to restrict the current account deficit to 3.7% of GDP, or $70 billion, in the current fiscal to stem the rupee's slide. But the measures he announced to meet this goal—such as quasi-sovereign bonds by state-owned and an increase in import duties on non-essential goods—were dismissed as mere palliatives by the markets. Experts believe bold action on other drivers of the deficit like oil, coal and iron ore imports will be required to tame the deficit. "Admittedly some of it is tough, iron ore, mining etc, but that is what we need to address before people will really be convinced about a sustained move lower in the current account," says Puri.
What could turn around the rupee's fortune? How about short-term restrictions on imports or rupee-denominated bonds directed at non-resident Indians, suggests Ananth Narayan, the co-head of wholesale banking (South Asia) at Standard Chartered Bank.  "In those schemes the NRIs can avail of bank lending and lever up their investments and get decent returns," he says. "Purely from an economic standpoint, if the steps announced are amenable to leverage, we can see significant one-time flows coming in."