Bitcoin cash, a bitcoin offshoot, is soaring. But it's not changing hands for $9,500, as the price displayed on Coinbase's exchange suggests. Its real gain for the day is more like 64%, around the $3,400 mark, according to data provider Coinmarketcap.
The picture is complicated by the fact that the bitcoin cash price likely rose because Coinbase made a surprise announcement that it would start trading the cryptocurrency on its GDAX exchange.
But the trading was short-lived. Just two minutes after it began, GDAX put restrictions on trades, preventing orders from being filled. A little over an hour later, orders were cleared and the market was taken offline. Trading will resume on Dec. 20 at 9am PT, GDAX reported to its users on its status log.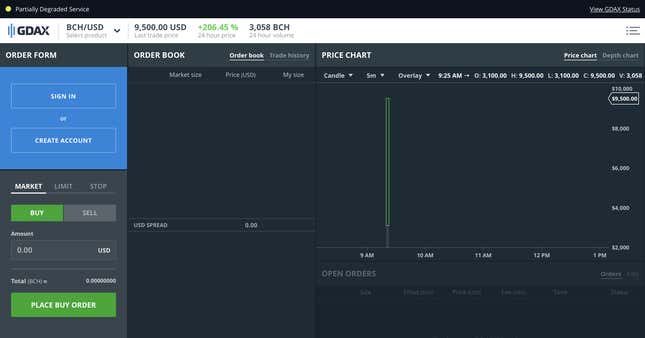 Here's what the bitcoin cash price looks like on Coinmarketcap, which takes a volume-weighted average of bitcoin cash prices from 150 exchanges.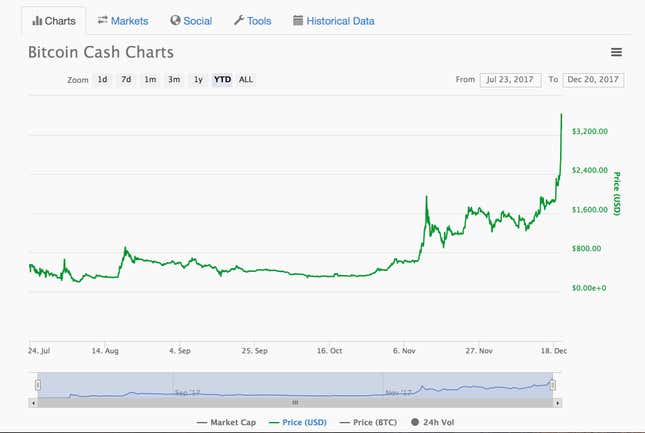 Bitcoin cash began trading on GDAX in "post-only mode," which restricts traders to orders that are not immediately matched. "It's to let an order book develop to avoid more crazy price gyrations," says Jacob Eliosoff, who runs the New York City-based cryptocurrency fund Trevi Digital Assets Fund.
But the "post-only" mechanism fell short of its task. After about an hour of "post-only" orders, GDAX lifted the restriction. As orders were matched, demand likely greatly outstripped supply, causing the price to jump. Two minutes later, "post-only" restrictions were imposed again because of "significant volatility," according to Coinbase. The result of the bitcoin-cash trading launch: A price of $9,500 displayed on GDAX, representing a spread of $6,000 with other exchanges. So much for avoiding those crazy gyrations.
Cryptocurrency traders were also incensed that the bitcoin cash price had moved sharply upwards in the hours before Coinbase made its announcement, leading some observers to claim that people with knowledge of the imminent listing obtained coins on the cheap.
Coinbase addressed the accusations with a statement saying that it prevented employees from trading in bitcoin cash weeks before the listing. CEO Brian Armstrong wrote in a separate post that the company would investigate whether staff or contractors had acted on "material non-public information"—basically, insider trading.
When it comes to market manipulation, companies like Nasdaq sell software that helps monitor and detect traders who are trying to take advantage of other parties. Adam White, vice president and general manager of GDAX, said in an interview with Quartz last week that all the company's systems are built in-house. He said the firm has trading rules but declined to comment further on its electronic monitoring of buying and selling.
Quartz has asked Coinbase for an explanation for the trading suspension. It said it would respond shortly, but had not done so at the time of writing.
Coinbase and other exchanges have struggled to keep markets open as new customers pour in. It's a symptom of the cryptocurrency markets' immature infrastructure as hordes of retail investors and institutional players start trading the digital assets. It's a major problem that these fledging exchanges must solve if cryptocurrencies are ever to become a mainstream asset class.