Despite a year of unrelenting provocations from North Korea that has sent the globe into a state of alarm over the prospect of war on the Korean peninsula, South Koreans will more likely remember 2017 as the year the people brought down a president and installed a new, progressive leader in power.
As such, it was no surprise that memes related to the downfall of disgraced president Park Geun-hye and the subsequent election of the affable and humble former human-rights lawyer Moon Jae-in dominated the internet in 2017.
Face hegemony
Not only is president Moon wildly popular in Korea, but so are the people around him. Together with senior secretary for civil affairs Cho Kuk, chief of staff Im Jong-seok, and the president's bodyguard, the popularity of this group of handsome men lies partly in their "face hegemony." Moon and his cabal have been dubbed the "F4," or "Flower 4" (link in Korean) of the presidential Blue House, after the moniker given to the four male heartthrobs in the Korean TV series Boys Over Flowers.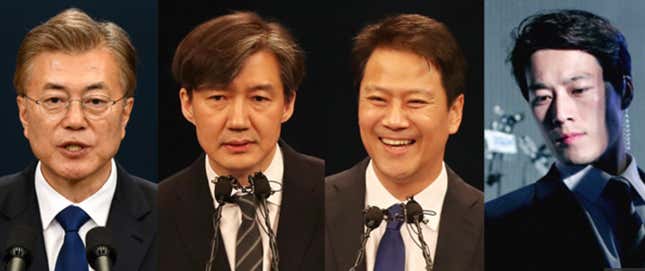 "I will cook stew on my hand"
Lee Jeong-hyun, a member of former president Park Geun-hye's Saenuri Party, was so sure that Park would survive—despite allegations of her involvement in a widespread influence peddling and corruption scandal—that he said he would cook his hand in hot stew (link in Korean) if the impeachment really happened.
The Korean expression Naesonae jangul jijigetda—which means "I will cauterize my hand with hot irons" or "I will cook stew on my hand"—is used in situations when people are absolutely certain something won't happen or is impossible.
After the national assembly voted overwhelmingly in favor of impeaching Park, film critic and TV personality Heo Ji-woong posted a composite image of Lee sticking his hand in a cauldron.
When the photo spread through social media, people started to post similar memes. The photo below shows opposition politician Chu Mi-ae saying, "I'll start with your right hand," while proceeding to put Lee's hand over hot coals.
The chaebol  sniper's bag
The chaebol are huge family-run conglomerates, such as Samsung and LG, that dominate nearly all aspects of life in Korea. Dogged by frequent allegations of corruption, their power over Korea's economy means that they're deeply unpopular, and president Moon has vowed to rein in their power.
In June, Moon appointed Kim Sang-jo, a renowned corporate reform activist known as the "chaebol sniper," as chairman of the Fair Trade Commission. But it was Kim's beat-up leather satchel that caught the public's attention at his confirmation hearing. Just as Moon presented himself as a laid back, man-of-the-people type of leader, the Korean public similarly saw in Kim's tattered bag the qualities fitting of an advocate of greater justice for Korean shareholders, such as frugality. It was reported that he had been using the bag since he was a master's student more than 20 years ago.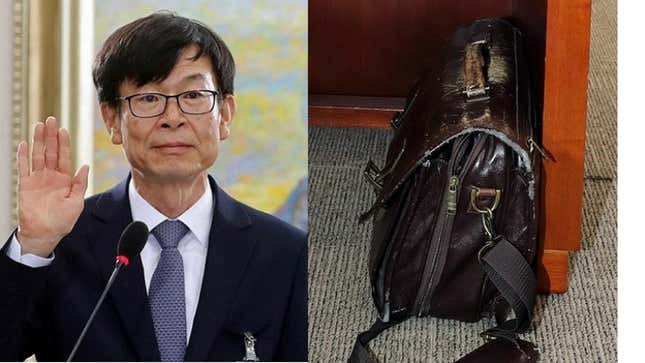 The bag was so popular that Moon himself took a closer look at it after Kim's appointment ceremony.
BBC dad
When Robert Kelly, an American academic based in the city of Busan, South Korea, realized his two children had gatecrashed his televised interview on BBC World (as he was discussing the impeachment of Korea's president), he thought it was the end of his career as a TV talking head. But it didn't take long to realize the exact opposite had happened.
Over 25 million people to date have watched the video of Marion and James Kelly waltzing into their father's big moment—followed by their frazzled mother—on what was arguably the biggest day for South Korea in 2017. Millions more have watched four-year-old Marion on loop in the form of gifs on social media since then—the two kids have even inspired an animated series called The Adventures of Mina and Jack. 
Since the incident, the requests for Kelly to offer his analysis on Korean affairs on TV have not stopped—and neither have requests for Kelly to discuss what happened (paywall) on that day Marion won the hearts of the world.
The "no-look pass"
As Kim Moo-sung, a 65-year-old Korean politician walked into the arrivals hall at Seoul's Gimpo Airport on May 23, he smoothly pushed his suitcase to a male assistant who was awaiting his return, without even so much as giving him a glance. The video quickly went viral in Korea, and Kim's move was dubbed the "no-look pass," a reference to the basketball move.
But Kim also stoked a conversation over a chronic problem in Korea—gapjil, or the abuse of power against a person in a weaker position by another person with power. Statistics from South Korea's National Police Agency (link in Korean) showed that 1,289 cases of gapjil were recorded in September 2016, with 90% of those incidents carried out by men.
The popularity rating of Kim's party dropped by 2 percentage points (link in Korean) after the incident.
The Pyeongchang bench coat
The official Winter Olympics to be held in Pyeongchang in February has caused a national frenzy—but not for quite the right reasons.
Instead of queuing for tickets, Koreans have instead been lining up since October for the games' official coat, a long, puffy down jacket known as "PyeongChang Winter Olympics long padding." The jackets, also known as "bench coats" because they're worn by athletes sitting on the bench, retail for around $140, which is much cheaper than similar types of winter coats made by well-known fashion brands.
Only 30,000 of the limited-edition coats are available, leading thousands to queue overnight in frosty temperatures before department stores opened their doors.
Meanwhile, with less than two months to go to the start of the games, the Korean government is getting nervous about lukewarm ticket sales. Moon embarked on a publicity offensive recently to promote the games, for example, by riding the train that links Seoul's main airport to one of the Pyeongchang venues and meeting with people who had purchased tickets.