Everything you need to know to understand the US president and his intentions for the nation is now neatly summed up in a single symbol for our convenience.
Donald Trump's presidential challenge coin scrapped the traditional Latin motto e pluribus unum, meaning "out of many, one," with his campaign slogan "Make America great again," The Washington Post (paywall) reported on Dec. 22.
The Trump coin is "very gold," an unnamed White House aide told the publication. It also bears his name in three places, where other presidents have only felt one showing was necessary. And instead of the presidential seal, Trump's coin uniquely features the White House with an eagle's head facing right, not left (get it?). His coin is thicker than any other issued by previous presidents and no longer shows the 13 arrows symbolizing the first 13 colonies.
This flashy coin that ignores shared American ideals—like being a home for people of many backgrounds and cultures—and focuses on Trump himself, is perfect in revealing Trump's values.
The president was involved in the design himself, his aide told the Post. With the issuance of this symbol at what is almost the one-year mark of his presidency, the leader is letting us know what he's all about: himself, his brand, and gold (read: lucre). Trump famously loves gold and his three-story New York penthouse apartment is trimmed in gold.
The administration doesn't seem to have its story straight yet on who is paying for the coin (or what the cost is)—it's either sponsored by the Republican National Committee or the White House, meaning the people. A Republican National Committee member said the party is covering the unstated cost, contradicting what an aide told the Post.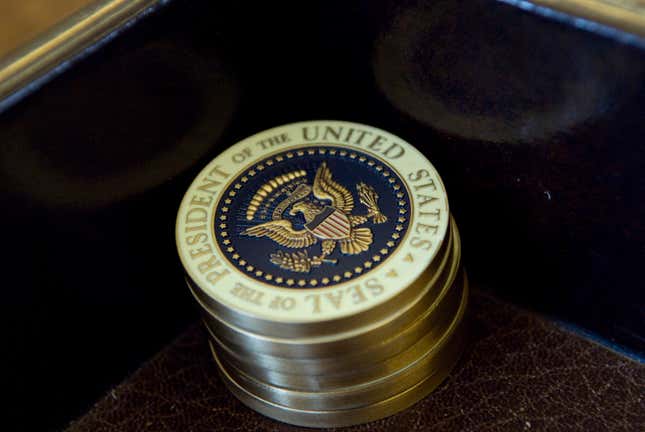 The tradition of the presidential challenge coin began under president Bill Clinton, who adopted an ancient military practice. Soldiers as far back as the ancient Roman Empire exchanged such coins, which were meant to signify their military branch or other affiliations. Presenting the coins is an honor to the recipient and a symbol of respect. Trump intends to use the coin in new ways, his aide explained, for example as a campaign rally giveaway.
Challenge coins are issued regularly by presidents, who offer them to solders and special guests, sometimes in a secret handshake. But the US Congress, police agencies, firefighters, boys scouts, and clubs of all kind have also adopted the tradition.
It's a simple yet powerful symbol that conveys what you're all about. The optimistic White House aide told the Post. "I'm sure there will not be just one coin during [Trump's] tenure. I'm sure the next one will say 'Made America Great Again.' "